4 x 6 (1.25m x 1.95m) Mercia Overlap Pent Bike Store
Usually delivered: Use Pick A Day delivery below for your earliest delivery date to your Post Code.
Description
If you are concerned by the long-term damage that water could have on your bike's frame and tyres, it may be wise to buy a high-quality bike store. The 4 x 6 Mercia Overlap Pent Bike Store will offer shelter to up to three adult-sized bikes for many years, thanks to a strong timber construction. Aside from bikes, this product can become a useful storage space for all manner of items you would like to store outside of the home, from gardening equipment to garden furniture.
Features
This bike store has everything you need to keep bikes safe from the elements, thanks to the many features in construction and design that are packed into its small footprint. A set of double doors ensures there are no difficulties in storing or retrieving your bike, which pairs well with the pent roof design whose highest point is on the front side. The doors feature a catch to make sure it remains closed when not in use, and the timber is easy to drill into if you choose to add your own locking mechanism.
In many ways, the strength and durability of the 4 x 6 Mercia Overlap Pent Bike Store comes from its 7mm timber cladding. Using horizontal boards that overlap to encourage the run-off of water, this cladding protects your bikes from weather damage. It is dip-treated prior to delivery, giving it a good level of resistance to rot and damage on its way to your home and during the initial stages of assembly. Once your bike store is ready to use, elbec recommends applying a high-quality wood preservative. Protek is a fantastic choice and is available in a wide range of stunning colours through elbec. The timber used in this cladding is FSC certified, meaning it is sourced from sustainable forests.
With the frequent storage of heavy items that can be dirty, Mercia has chosen a robust and water resistant material for the floor - solid sheet board, with compressed layers of wood strands and resin. An identical material is used in the roof and is covered with a durable roofing felt. Internal framing featuring 28mm x 28mm timber is utilised throughout the bike store.
Additional Information
Full assembly instructions are provided with the bike store, which will arrive in a disassembled state with all of the parts and fixtures needed to complete the structure. We always recommend enlisting the help of a handy friend to make the assembly process run more smoothly. It is reasonable to expect the bike store to take one or two afternoons to put together, depending on your prior experience of similar projects.
Every bike store has already been treated with a water-based timber treatment for the necessary level of protection from rot and insect infestation during transit. To receive the full benefits of the 10-year anti-rot guarantee that Mercia offers with this product, elbec recommends applying a high-quality wood preservative such as those found in the Protek range, available for order with the bike store. As well as giving you the fun option to customise the colour of your bike store, Protek's products will help protect your timber from the effects of weathering. Be sure to read the full details of the care instructions provided by Mercia to understand how to retain the coverage for the duration of the guarantee period.
Delivery
ALL DELIVERIES ARE DELIVERED TO KERBSIDE OR DRIVEWAY. All of our Mercia products are delivered flat packed other than fence panels (which are delivered fully constructed), direct to your home, and are supplied with a set of instructions to support assembly.
Booking Delivery
You will be required to book your delivery date at the time of placing your order (except for Metal Shed). Our 'Request a Delivery Date' service is available to the majority of areas and you'll find that the majority of the UK postcodes are FREE but some areas may incur a delivery surcharge and some postcodes are not covered at all. Select a 'requested delivery date' by entering your postcode in the 'Request a delivery date' section above. You will also be notified at this time if your area incurs a surcharge or delivery is not covered in your area.
Prior to Delivery
On the morning of your delivery date, you'll be sent an update by text with an estimated 2-hour delivery slot (this update can only be provided where a mobile number has been supplied on the billing address section at the time of checkout) together with a link to the manufacturer delivery portal where you'll be able to track your order.
Please note: Mercia Metal Sheds ONLY - your order is delivered by a courier you will not be notified prior to the delivery. If you are not in on the day of the delivery you will be carded and asked to contact the courier to arrange a new mutual delivery date. The estimated delivery lead time for Mercia's Metal sheds is identified on the product for the metal shed. Lead times are on working days (Monday - Friday) excludes Bank Holidays. These estimated lead times are provided by the manufacturer. Some remote areas will take a little longer.
Upon Delivery
Your order is delivered either kerbside or driveway and will be delivered on either a 3.5T, 7.5T or 18T Lorry. Unfortunately due to health and safety and insurance liabilities the driver will not be able to take your goods around to the back of your property but may upon request place the product at the side of the house if there are no access or restriction issues. We would not risk damaging your property whilst delivering a product to an unsafe location. Unfortunately, we will not be able to go through your property.
We would recommend against arranging for a third party to install the building before it's been delivered and checked that all parts are present, as we cannot be held liable for any third-party costs.
Orders with Assembly
The lead time for our installation option is around 7 Weeks from the date of order. With the installation option, the majority of orders will have their delivery and installation on separate days; there will be a small number of orders which will have delivery and installation on the same day. You will be advised by the manufacturer's installation team which category your order falls into.
Depending on the installation option for your order, you will be contacted within the delivery timescale and given a date for either delivery/assembly on the same date or a separate date for delivery and assembly.
Specification
Product Name:
4 x 6 (1.25m x 1.95m) Mercia Overlap Pent Bike Store
Footprint Depth:
1.18m (3'10") - Excluding Roof Overhang1.25m (4'1") - Including Roof Overhang
Footprint Width:
1.90m (6'3") - Excluding Roof Overhang1.95m (6'5") - Including Roof Overhang
Ridge Height:
1.24m (4'0")
Eaves Height:
1.14m (3'8")
Treatment Type:
Dip Treated
Manufacturer's Guarantee:
10 Year Anti-Rot Warranty
Framing Size:
28mm x 28mm (11 /10" x 11 /10")
Roofing Felt:
Green Mineral
Floor Material:
Solid Sheet Board
Floor Joists:
28mm x 28mm (11 /10" x 11 /10")
Floor Joist Direction:
Front to back
Window/Door Panel(s) Interchangeable:
×
Manufacturer's Product Code:
SI-001-001-0145
Manfacturer:
Mercia Garden Products
Country of Origin:
United Kingdom
Quickview
The 4 x 6 Mercia Overlap Pent Bike Store is the perfect place to store up to three adult bikes in an outdoor setting, saving you plenty of hassle when it comes to keeping bicycles out of the rain without using the house. Features include:
Double doors for easy access when wheeling in bikes

Compact size and low height, despite a roomy interior that is great at storing other items alongside any bicycles

10-year anti-rot guarantee, to give keen cyclists some reassurance when it comes to the longevity of the bike store

Overlap timber cladding with robust internal framing
What is included?
Free UK mainland delivery

7mm overlap cladding made with FSC certified timber

Double doors for easier placement of bikes

Pent roof for easy access due to maximum height at the door side

Solid sheet board roof and floor

10-year anti-rot guarantee

Dip treated for initial protection (further treatment with a wood preservative is recommended)

Mineral roofing felt included

Keep door closed with a simple catch

Galvanised steel hinges

Robust floor joists to support the weight of your bike and other stored items
You May Also Like
---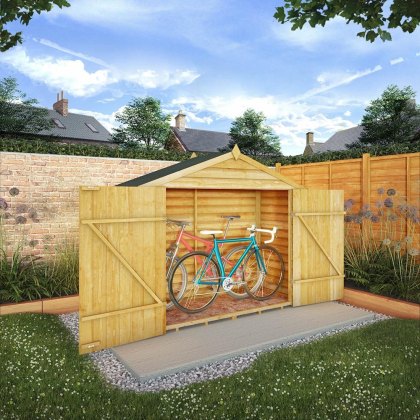 ---