Our Showsite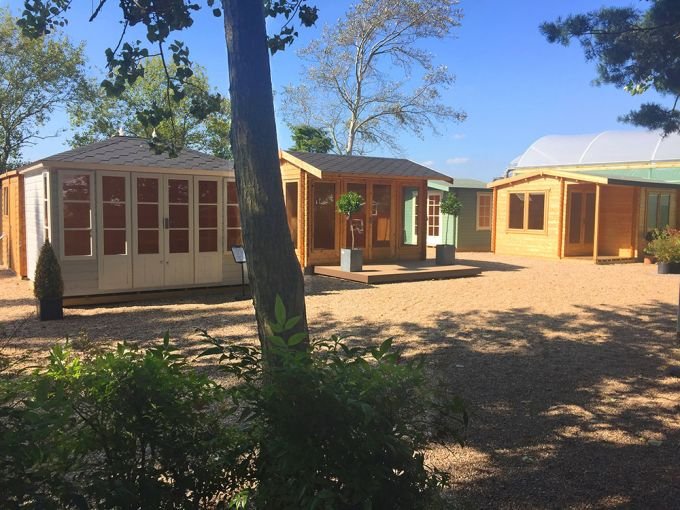 ---
431 Mapperley Plains,
Mapperley, Nottingham,
Nottinghamshire, NG3 5RW
Here at elbec you'll find 5000 sq ft of landscaped display area exhibiting some of the many products from our website. They're set out right now, just for you. Our show centre features some of the very best garden buildings in the UK at the lowest prices.
elbec is based in Nottingham at Brookfields Garden Centre, giving you an opportunity for a great day out. Come and see what elbec and Brookfields have to offer.
You'll find sheds, workshops, log cabins, summerhouses, playhouses, greenhouses, arbours, and garden accessories at elbec's show centre.
elbec's friendly team are always happy to offer advice and to answer your queries about any of the products we have on site.
Whether you live nearby or further afield a visit to our show centre is worth it. The best way to get a feel for the type of product you're looking for is to see it for yourself. Come and be inspired by the way we've set out the products and pick up some ideas for your own garden.
---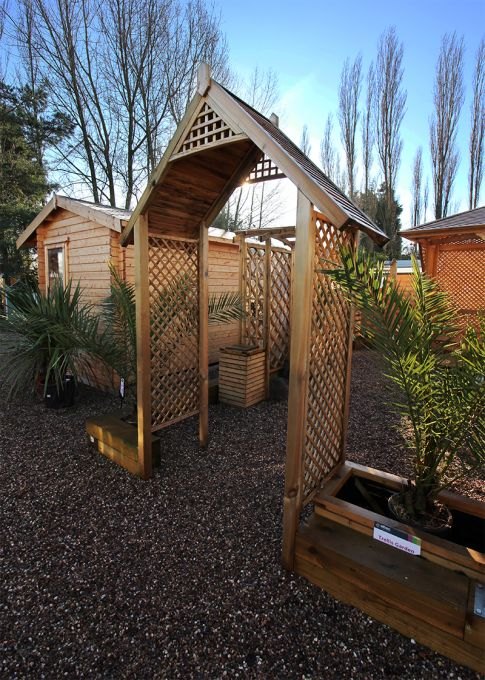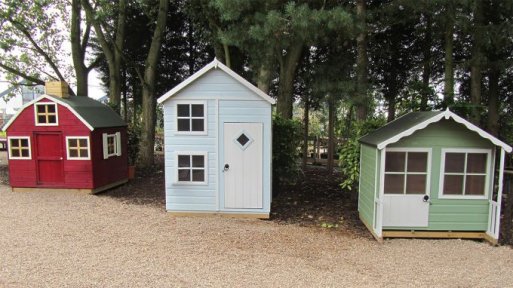 ---
BROOKFIELDS
There's more to the Brookfields site than elbec's garden buildings show centre. At Brookfields there are various departments to suit all visitors, including the aquatics, pets, café, giftware, clothing, indoor plants and outdoor plants. Two recent features to the garden centre are Bumble B's Play Den for little ones up to 5 years old and the poly-tunnels. If you want to discover more about these fantastic features… read on!
Plants (Indoor and Outdoor)
The focal feature of the garden centre is, of course, the plants. The indoor and outdoor plant areas are very well-constructed with superb attention to detail, offering an extensive range of plants to complement any style of garden. With plants sourced from both England and Europe, Brookfields consider this as the heart of their garden centre, and for good reason. Brookfields is so confident with the quality of the plants they sell that they offer a 5 years guarantee on hardy plants. If a hardy plant fails during the five years, it can be returned and replaced with a new plant of the same type or similar equivalent.
The range of plants at Brookfields gives every gardener the opportunity to make the most of their garden. Whether you're searching for small plants to fill a bare spot, or an impressive feature plant to enhance your garden's character, you'll find what you need at Brookfields.
Don't miss the 'grow your own' feature where you can enthuse over the array of fresh herbs, fruits, beans and other vegetables.
For those with a little more gardening experience, you can take your pick from the shrubs, perennials, roses, trees and rockery plants. If you're looking for a burst of colour, Brookfields offers year-round bedding plants, vibrant flowers and hanging baskets to highlight any outdoor area.
Poly-tunnels
Brookfields has invested in a grand poly-tunnel that shelters many plants and enables visitors to admire and browse for plants all year round, whatever the weather. Plant varieties are regularly updated, making every trip to Brookfields a special occasion.
Bumble B's Play Den
Worried about how you'll entertain the little ones? Brookfields has a brand new soft play area with slides, obstacles and even giant snails to keep the children occupied. The play area has two key sections: the 0-2 year olds' area and the 2-5 year olds' area. The area at the front of the soft play is for the youngest children so that parents can keep a close eye on their toddlers without leaving the comfort of the café. The 2-5 year olds' area offers lots of action-packed fun for the older children. The soft play areas hold a 100% health and safety certificate.
Arthurs Café
After browsing elbec's showsite why not pop down to the licensed Brookfields Arthur's Café named in honour of the founder of Brookfields garden centre 'Arthur Clower' and choose from their selection of fresh food and drinks. At the café there is a sandwich bay, salad bar, hot meal bar, desserts section (with freshly made cakes of course!) and various hot and cold drinks. And if that's not enough, step into the adjacent food hall to buy some treats to take home or save for later.
Brookfields also offers 'Kids Tea Time' specials from 3.30 to 4.30 where the children will be spoilt for choice; a hot meal and a juice is only £4.50. Any adults the children bring along will find a great choice of cakes and a hot drinks modestly priced at £3.99.
Aquatics
Considered the best in the East Midlands, the aquatics at Brookfields is a great way to discover many species of fish from all over the globe, all under one roof! There are both cold water fish and tropical fish including platies, guppies, mollies, sword tails, angel fish and many, many more. The cold water fish include goldfish, koi, minnows and sticklebacks. Displaying colours usually found deep in the ocean, the aquarium is the ideal place to imagine yourself transported to the deep, deep sea.
Pets
Brookfields Garden Centre also houses a pets' area where you can visit, or even buy, a selection of small animals. Some of these charming companions include Winter White hamsters, Rew Mini Lop, Sable Mini Lop and Lop Eared rabbits, gerbils and Dumbo rats. There is a collection of birds, including the Zebra Finch, Society Finch, Canary Yellow, Diamond Dove, Cherry-faced Lovebird and the Black-masked Lovebird.
Giftware
The giftware section at Brookfields Garden Centre is another key area that is definitely worth a look. You'll find rows upon rows of creative cards and ravishing wrapping for every occasion. If you're looking for a special present there's photo frames and albums, jewellery boxes, novelty ceramics, gifts for a new baby or christening and other precious keepsakes. Some well-known brands stocked in the giftware department include Wax Lyrical, Bomb Cosmetics and Vintage & Co. You'll find it all here at Brookfields!
Clothing
From autumn to winter spring and summer, Brookfields will take you through the seasons in style. A range of garments, complemented by many well-known brands, means you're bound to find something to suit you. With current lines from Lighthouse, Alice Collins, New Line, Carina Ricci, Beauty Women and more, don't miss out on your favourite brands.
THERE'S MORE?!?
Brookfields Garden Centre holds events throughout the year. To find out all about the current occasions whether it's summer holiday crafts to keep the kids entertained all summer long or the dates of Santa's Christmas visit, take a look at Brookfields' website and Facebook page by clicking on the images below...
If there are any other questions you have about elbec's show centre, please do not hesitate to contact us by email or telephone using the contact information on our website.
Note: If there is a particular product you would like to view we would recommend you check with us to see if we have that product available. In many instances you will find we can show you something similar.
We look forward to seeing you soon!
---