12 x 8 (3.57m x 2.48m) Mercia Overlap Shed - No Windows
Usually delivered: Use Pick A Day delivery below for your earliest delivery date to your Post Code.
Description
If you like the sound of having all the room you need to store outdoor items in the garden, the value of this shed is almost unmatched. The 12 x 8 Mercia Overlap Apex Windowless Shed delivers an incredible amount of storage space for your money, thanks to a 12 x 8 footprint and convenient double doors that make storing large items (bikes, lawnmowers, wheelbarrows, and more) an effortless experience. Garden owners love the honest and rustic look of this overlap shed, which features FSC certified timber and an impressive guarantee on rot despite the low cost.
Features
The key to the success of the 12 x 8 Mercia Overlap Apex Windowless Shed is its simplicity, but a range of great design features make it a user-friendly and reliable way to store items outdoors. When entering the shed, owners will always appreciate the ledged double doors that open wide for easy access. Struggling to fit bicycles or lawnmowers inside your shed will no longer be an issue thanks to this feature, and two doors also let more light into the interior when opened, a feature that becomes more relevant to a windowless shed like this one. A simple 'turn button' style catch will ensure the doors stay closed when not in use.
But the bedrock of the 12 x 8 Mercia Overlap Apex Windowless Shed's design is its 7mm overlap cladding, which makes use of high-quality timber that has already received dip-treatment for the necessary level of initial protection. By overlapping each piece of timber, the cladding has the desired effect of helping divert rainfall away from the interior of your shed.
A thick 28mm x 28mm timber frame is used in the interior to join this cladding together and create a more robust overall structure. Both the roof and floor of this shed feature a solid sheet board material that uses oriented wood strands and resin, offering an impressive degree of water resistance and general strength. Mineral roofing felt increases the shed's resistance to the elements even further, and gives the exterior that classic garden shed look alongside its overlap cladding.
Additional Information
At elbec, we always recommend applying a high-quality wood preservative to the exterior of your garden shed for an improved degree of resistance to the elements, protecting your shed from insect infestation and rot. The products offered by Protek do an exceptional job of protecting the wood to which they are applied, and are available for home delivery from elbec. Caring for your shed is particularly important for keeping the anti-rot guarantee that is offered by Mercia valid for the entirety of its 10-year coverage period. Make sure you familiarise yourself with the care instructions paired with this guarantee to get guidelines for how to get the most out of your shed.
The 12 x 8 Mercia Overlap Apex Windowless Shed will arrive with all the parts and fixtures needed for you to assemble the shed in your own garden. Some prior experience in similar practical projects will certainly be of use, but Mercia provides a clear and detailed instruction manual with the order. It is advised that you assemble your shed with the help of a friend, and it is reasonable to expect the process of putting the shed together to take a day or two depending on past DIY experience.
Delivery
ALL DELIVERIES ARE DELIVERED TO KERBSIDE OR DRIVEWAY. All of our Mercia products are delivered flat packed other than fence panels (which are delivered fully constructed), direct to your home, and are supplied with a set of instructions to support assembly.
Booking Delivery
You will be required to book your delivery date at the time of placing your order (except for Metal Shed). Our 'Request a Delivery Date' service is available to the majority of areas and you'll find that the majority of the UK postcodes are FREE but some areas may incur a delivery surcharge and some postcodes are not covered at all. Select a 'requested delivery date' by entering your postcode in the 'Request a delivery date' section above. You will also be notified at this time if your area incurs a surcharge or delivery is not covered in your area.
Prior to Delivery
On the morning of your delivery date, you'll be sent an update by text with an estimated 2-hour delivery slot (this update can only be provided where a mobile number has been supplied on the billing address section at the time of checkout) together with a link to the manufacturer delivery portal where you'll be able to track your order.
Please note: Mercia Metal Sheds ONLY - your order is delivered by a courier you will not be notified prior to the delivery. If you are not in on the day of the delivery you will be carded and asked to contact the courier to arrange a new mutual delivery date. The estimated delivery lead time for Mercia's Metal sheds is identified on the product for the metal shed. Lead times are on working days (Monday - Friday) excludes Bank Holidays. These estimated lead times are provided by the manufacturer. Some remote areas will take a little longer.
Upon Delivery
Your order is delivered either kerbside or driveway and will be delivered on either a 3.5T, 7.5T or 18T Lorry. Unfortunately due to health and safety and insurance liabilities the driver will not be able to take your goods around to the back of your property but may upon request place the product at the side of the house if there are no access or restriction issues. We would not risk damaging your property whilst delivering a product to an unsafe location. Unfortunately, we will not be able to go through your property.
We would recommend against arranging for a third party to install the building before it's been delivered and checked that all parts are present, as we cannot be held liable for any third-party costs.
Orders with Assembly
The lead time for our installation option is around 7 Weeks from the date of order. With the installation option, the majority of orders will have their delivery and installation on separate days; there will be a small number of orders which will have delivery and installation on the same day. You will be advised by the manufacturer's installation team which category your order falls into.
Depending on the installation option for your order, you will be contacted within the delivery timescale and given a date for either delivery/assembly on the same date or a separate date for delivery and assembly.
Specification
Product Name:
12 x 8 (3.57m x 2.48m) Mercia Overlap Shed - No Windows
Footprint Depth:
3.51m (11'6')
Footprint Width:
2.35m (7'9")
Ridge Height:
2.12m (6'9')
Eaves Height:
1.56m (5'1')
Treatment Type:
Golden Brown Base Coat Dip Treatment
Manufacturer's Guarantee:
10 Year Anti-Rot Guarantee
Framing Size:
28mm x 28mm (11 /10" x 11 /10")
Roof Material:
Solid Sheet Board
Roofing Felt:
Green Mineral Felt
Floor Material:
Solid Sheet Board
Floor Joists:
27mm x 32mm (11 /16" x 11 /4")
Floor Joist Direction:
Front to back
Door Lock System:
Turn Button
Window/Door Panel(s) Interchangeable:
×
Manufacturer's Product Code:
SI-001-001-0007-NW
Manufacturer:
Mercia Garden Products Ltd
Country of Origin:
United Kingdom
Quickview
This 12 x 8 Mercia Overlap Apex Windowless Shed is a no nonsense garden shed that means business, with a construction that prioritises giving customers a large amount of storage space for their money. Some features include:
7mm overlap cladding that uses a dip-treated timber
Robust double doors that are ledged for extra strength and allow for easier entry with large items like bicycles or lawnmowers
10-year anti-rot guarantee from the manufacturer gives customers confidence in this shed's long lifespan
Windowless design keeps attention away from any items stored inside
Key Features
Free UK mainland delivery
'Pick a day' fast delivery
7m overlap cladding
28mm x 28mm internal timber framing offers plenty of stability to the overall structure
Traditional apex roof with mineral roofing felt
Ledged double doors provide an easier time entering with larger items like bikes or lawnmowers
Solid sheet board (OSB) used for roof and floor
Large interior space for storing many items
FSC certified timber that has been dip-treated for the necessary level of initial protection
10-year anti-rot guarantee from Mercia
You May Also Like
---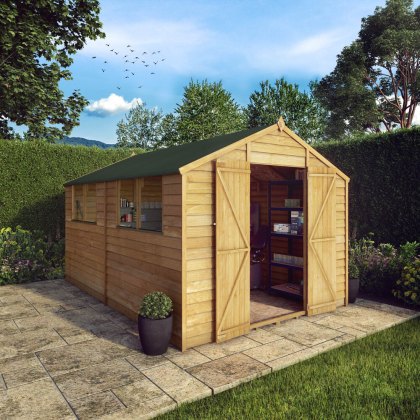 ---