16G x 10 (4.74m x 2.99m) Shire Bourne Log Cabin (28mm to 70mm Logs)
Usually delivered: Use Pick A Day Delivery below for the first available delivery date for your Post Code
Description
The 16 x 10 Bourne Log Cabin from Shire is the perfect solution for anyone looking for a great place to spend their leisure time as well as needing extra storage space in their garden. With its attractive design sure to improve the look of your garden and its integrated storage area giving you valuable extra space for all your garden items, the Bourne Log Cabin could be exactly what you are looking for.
At elbec, we are confident that our log cabins are the perfect way to make the most of your unused garden space and provide a wonderful spot to relax in comfort all year round.
Ways to Make the Most of Your Bourne Log Cabin
There are loads of ways to make the most of a Shire Bourne Log Cabin. The living area gives you a fantastic space to spend your leisure time while enjoying the outdoors. Whether you want to host lively gatherings of friends and family or would prefer a quiet spot to relax and unwind in the attractive surroundings of your garden, the Bourne can give you exactly that. By throwing open the double doors and the opening window, you will have a breezy, cool place to spend your time. Alternatively, keep them closed to give you a nice, snug indoor space. This means you can really make the most of your log cabin whatever the outside conditions are. The 16 x 10 log cabin also provides a great standalone space to pursue those hobbies where space in your home is limited. Whether you want to get yourself some exercise equipment or would love a stylish music practice room, a log cabin could provide just the space you need. We're sure you don't need us to tell you how to use the extra storage space the Bourne gives you. Whether you are a keen gardener seeking a new home for your tools, or simply need somewhere to store outdoor furniture during the wetter months, you'll soon be wondering how you managed without the handy, extra space. With so many possibilities and larger or custom sized log cabins available in the Bourne range, you're certain to appreciate your Bourne Log Cabin however you decide to use it.
Why Others Tell Us They Love the Bourne
As with all Shire Log Cabins, the quality is apparent straight away. The Bourne's popularity comes from its creative and sensible use of space. We're sure you'll agree that the Bourne has achieved its goal of providing a practical storage space without affecting the fantastic overall look of the log cabin. For practical reasons people buy a shed, whereas for leisure purposes they opt for a log cabin or summerhouse. But the Bourne Log Cabin gives you the best of both worlds, which is why so many choose it for their garden. The pleasing timber exterior and the Georgian style windows fitted as standard add to the charm of this log cabin. Inside, the timber walls provide a classic log cabin look and its thick roof beams make the interior a stylish and stunning space. The handcrafted joinery of all windows and doors rounds off the appeal of this superb log cabin. Our customers often like to add their own personal touch by painting their log cabins and they look fantastic in any colour. Shire recommends you use Protek paint, available from elbec in a wide variety of colours. By using Protek Royal Exterior, you can make the Bourne look exactly how you want it while adding extra protection to the timber. Whether you love bold, bright colours or a more natural wood finish, Protek has a colour to suit any taste.
Features
A Shire Log Cabin is built to last, and the Bourne is no exception. With overlapping corner logs and 4-way corner joints used by Shire as standard, you'll be impressed by the strength, stability and sturdy feel of the Bourne Log Cabin. The Shire draught seal system fitted on all external windows and doors ensure that you will be snug in your log cabin. The Bourne has a choice of log wall thickness between 28mm and 70mm. A popular choice among our customers is to opt for a thicker wall log, which also means you will automatically receive an upgraded roof, floor and joists. This gives you an even sturdier construction and further usability throughout the year. You also have the option to upgrade to double glazed windows for an all year round cosier feel. Optional Celotex floor and roof insulation is available so you can make full use of your log cabin whatever the weather. The storage area features a lockable, solid security door and is windowless, so you can rest assured that your valuables will be kept safe. It is completely up to you on which side you'd prefer your storage area, making the Bourne suitable for almost any garden. You can purchase and construct your log cabin in the confidence that all Shire Log Cabins can be dismantled and rebuilt should you ever decide to move. We're pleased to offer the option of booking our dedicated professionals who will assemble your log cabin quickly and correctly. However, you can choose to use the comprehensive instructions included with the log cabin and construct it yourself.
Range of Customisations Options
At elbec, we offer a wide range of customisation options on all our Shire log cabins to help give you your perfect cabin. Why not add some colour to your cabin by upgrading from the standard felt roof to our stylish hexagonal roof tiles that are available in green or red? Take a look at our range of customisations above to make the changes you want.
Feel free to email us to discuss our full range of customisation and product options, or better still, give us a call so we can find the perfect log cabin to suit your needs. Alternatively, why not visit us at our Brookfields Garden Centre showsite near Nottingham? One of our helpful advisors will be on hand to show you around so you can really appreciate the look, feel and quality of our log cabins.
Bespoke and Made to Measure Cabins
All our Shire Log Cabins are made to order. As well as our extensive number of standard sizes and customisation options, you can choose to have the Bourne designed by you from scratch. Browse our bespoke and made to measure page where you will see there are loads of ways we can make changes to your log cabin to suit your needs.
Many customers choose this service if they have a certain size for their log cabin in mind that is not offered on our website. But did you know that as well as made to measure sizes, you can also change the roof style, to one you may have seen on another of our log cabins, and much more? Send us an email or call us today for a free quote or if you have any queries about what we can provide as part of our bespoke and made to measure service.
Door/Window Specification
Handcrafted Joinery Windows and Doors are supplied as standard. Windows can be hinged either at the top, right hand side or left hand side and all external Windows and Doors feature the Shire Draught Seal System and Drip Bar. The Bourne is also supplied with a solid SD4 single door.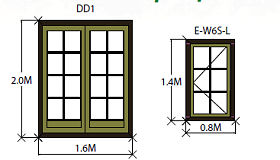 About the Timber
You will be impressed by Shire's use of natural products and their environmental credentials. A high quality timber log cabin starts with high quality timber, so it is important to know exactly what timber is being used for your log cabin. The most commonly used timber for garden buildings is pine (pinus) as this is widely available for a very cheap price, however all of Shire's garden buildings are constructed using high quality spruce (picea) and is sourced from Scandinavia under strict FSC guidance. Spruce is more durable than pine and provides a higher quality finish. This timber is slow grown unlike fast grown British and Eastern Europe's timber, being slow grown timber means a tighter grain, less sap and with far less knots. The timber used on Shire's log cabins is therefore a more durable timber that will last much longer than other timbers used on log cabins. Spruce is therefore the timber of choice for companies such as Shire who always look to produce the best garden building.
Base
It is important that the base for your log cabin is firm and level. You can request 'Guidelines for Preparing a Concrete Base' through our 'Contact Us' Section.
About Shire
Established in 1945 Shire are the country's leading and one of the oldest established manufacturer of garden buildings. Shire benefit from being adjacent to the Port of Wisbech through which Shire discharge timber into their warehouses. Shire is the proud manufacturer of the largest timber garden building range produced in the UK. At peak times they produce thousands of buildings a week. Their range includes Garden Sheds, Log Cabins, Eco Homes, Home Offices, Sheds, Workshops, Summerhouses, Playhouses, Arbours, Storage units and Pet houses. Their production facilities cover some 23 acres and include huge undercover stock holding facilities for many of their ranges, an advanced high speed timber planing mill, modern well equipped joinery production facility and semi-automated production lines. All Shire garden buildings are manufactured in the UK using the finest spruce timber, imported directly and machined through the most up to date machines to ensure the best quality and best value for money log cabins in the UK.
About your Log Cabin Order
If you think a Shire Bourne Log Cabin is perfect for you, have a look at our FAQs for Shire Log Cabins where we go over the finer details. These range from preparing the base to build your log cabin on, to arranging delivery of your purchase. We hope you'll find the FAQs informative and comprehensive, but do not hesitate to contact us with any queries you feel we haven't covered or would like to discuss in greater detail.
Picture shows footprint of 4190mmG (Door Side) x 2390mm (14'G x 8') Shire Bourne Log Cabin. The base sizes are taken to the extreme external length of the log including the corner joints that protrude. The base measurements do not include any roof overhangs. The double doors and single door shown are located on the 14ft front width. The standard window, located on the 8ft depth, for the Bourne is the W6S which is a 6 pane Georgian window.
All Shire Log Cabins are supplied untreated. You must apply a wood treatment to the exterior. Shire recommends Protek wood treatment, available from elbec in many different colours. This will protect the timber from weathering, making it last longer. The timber treatment will need to be repeated periodically in line with the manufacturer's instructions.
Delivery
ALL DELIVERIES ARE DELIVERED TO KERBSIDE AND ARE FLAT PACKED READY FOR ASSEMBLY
FREE delivery is offered to the majority of mainland UK postcodes but some areas may incur a surcharge and some postcode areas are not covered at all. Please check your postcode in the 'Delivery cost checker' above to confirm availability and any possible surcharges.
Delivery Leadtimes
The estimated delivery lead time for this product is identified on the product page above. Lead times are in working days (Monday - Friday) excludes Bank Holidays. These estimated lead times are provided by the manufacturers and are not guaranteed - due to fluctuation in demand - but are provided in good faith and are representative of delivery at that time. Some remote areas will take a little longer.
Booking Delivery
By entering your postal code in the 'Pick a delivery day. ENTER POSTCODE' Box above you can select a delivery date. The evening before this delivery date you will be sent a text message (where a mobile has been provided) with an estimated delivery window. This update can only be provided where a mobile number has been supplied on the billing address section at the time of checkout.

Upon Delivery
Delivery is made by Shire the manufacturer. Delivery of this item is typically made by a 17 ton flat-bed (similar size to a council refuse lorry). Delivery is typically between 7am and 7pm. The delivery drivers are only insured to deliver to kerb side or driveway. We would not risk damaging your property whilst delivering a product. Unfortunately we will not be able to go through your property. Deliveries are hand-balled off by the driver.
We would recommend against arranging for a third party to install the building before it's been delivered and checked that all parts are present, as we cannot be held liable for any third-party costs.

Installation option
If you are choosing the installation option after placing your order you'll be contacted within 5 working days by Shire the manufacturer either by a text message or automated telephone message (the latter if a mobile number is not supplied). This message will supply you with the name of the website to go on to where you will be required to accept the terms and conditions for assembly. Any delay in accepting these terms and conditions may affect your timescale. Once you have accepted these terms and conditions you will be contacted during the timescale with a date for the delivery/assembly of your order. The installation option will extend your lead time by up to 15-25 working days. This may take longer during seasonal periods. Please be aware that the installation team will require full access to your garden, 18" clearance all around the building and a firm and level base. Shire's installation team will not bring a building through your home as they are not covered by insurance to enter a customer's home.
Specification
Product Name:
16G X 10 (4.74m X 2.99m) Shire Bourne Log Cabin (28mm To 70mm Logs)
Footprint External Base Depth:**
2.99m (9'10")
Footprint External Base Front Width:**
4.74mG (15'7")
Footprint Internal Base Depth:**
28mm Logs - 2.74m (9'0")
34mm Logs - 2.73m (8'11")
44mm Logs - 2.71m (8'11")
70mm Logs - 2.66m (8'9")
Footprint Internal Base Width:**
28mm Logs - 4.54mG (14"11")
34mm Logs - 4.53mG (14'10")
44mm Logs - 4.51mG (14'10")
70mm Logs - 4.46mG (14'8")
Front Roof Overhang:
600mm
Height to Eaves:
2.0m (6'7")
Height to Ridge:
2.5m (8'2")
Floor Thickness:
28mm Logs - 14mm Tongue and Groove
34mm Logs - 19mm Tongue and Groove
44mm Logs - 19mm Tongue and Groove
70mm Logs - 19mm Tongue and Groove
Floor Bearers:
34mm x 61mm Pressure Treated
Roof Thickness:
28mm Logs - 14mm Tongue and Groove
34mm Logs - 19mm Tongue and Groove
44mm Logs - 19mm Tongue and Groove
70mm Logs - 19mm Tongue and Groove
Roof Joists:
28mm Logs - 44mm x 70mm
34mm Logs - 40mm x 120mm
44mm Logs - 40mm x 120mm
70mm Logs - 40mm x 120mm
Treatment Type:
Supplied Untreated
Window and Door Joinery:
44mm x 58mm
Door:
Double Door (located on the 16ft Side) and Single Door (located on the 16ft Side)
Door Height:
2.0m (6'6" ) - Double Door
2.00m (6'6") - Single Door
Door Width:
1.6m (5'2") - Double Door
0.9m (2'11") - Single Door
Number of Window(s):
1 Opening Window (located on the 10ft depth side - can be located on either 10ft depth side)
Window Glazing:
Horticultural Glass
Window Height:
1.30m (4'3")
Window Width:
0.80m (2'7")
Door and Window Reversible:
Double Glazed Door and Single Door - located on the 16ft front width can be reversed, Window - located on the 10ft depth can be located on either 10ft Depth Side
Positioning of Window Hinges:
Top Hinged, Hinged Right-Hand Side or Hinged Left-Hand Side
Roof Felt Weight (approx):
3.8kg per sq m
Roofing Felt Tiles (Black, Green or Red):
Optional
Upgrade to Toughened Glass:
Optional
Upgrade to Double Glazing:
Optional
Additional Side Window:
N/A
Manufacturer's Product Code:
28mm logs - BOUR1610L28-1AA
34mm logs - BOUR1610L34-1AA
44mm logs - BOUR1610L44-1AA
70mm logs - BOUR1610L70-1AA
Manufacturer:
Shire Garden Buildings
Country of Origin:
United Kingdom
Made to Measure Service Available:
✓
Click to View Alternative Sizes:
14x8, 14x10, 14x12, 14x14, 14x16, 16x12, 16x14, 16x16
Quickview
The 16 x 10 Shire Bourne Log Cabin uses space creatively to give you a great place to spend your leisure time and valuable extra storage space. The key features of this extremely well-designed cabin include:
Eye-catching, Georgian style double doors and side window
Integrated, secure storage space that you can choose to have on either the left or right hand side
Strong, sturdy construction typical of all Shire Log Cabins
Extensive range of customisation and bespoke options, including different sizes and extras
Key Features
FREE Delivery to UK Mainland*.
FREE 2.5m Planning Friendly Ridge Height on log cabins with front widths of up to 4790mm (16').
High grade slow grown Spruce timber means a tight grain giving extra strength, a much longer life and superior build quality that looks attractive in the garden.
High quality 28mm interlocking logs as standard for a strong and durable log cabin, with optional 34mm, 44mm and 70mm log upgrades.
Shire Draught Seal System included on all external window(s) and door(s).
Drip bars above windows and doors to help divert the rain away from the log cabin.
The roof and floor are made from thick tongue and groove making them durable and provides an attractive interior to this log cabin.
34mm x 61mm Pressure treated floor bearers ensure a high quality and long-lasting building.
Full length joinery glazed lockable double doors and single solid timber door for an impressive and secure entrance.
Glass is used so you can rely on the clarity of your windows and doors for years to come.
A 400mm roof overhang adds an impressive touch to the exterior and an outside place to shelter (the roof overhang is not included in the base measurement).
Generous roof height.
Inside is finished off neatly with skirting boards.
Available in a large choice of sizes.
All buildings are made to order and are built and designed in the UK.
Delivered flat packed with comprehensive instructions, fittings and heavy duty roofing felt to ensure installation is as straightforward as possible.
Forest Stewardship Council (FSC) Certified timber is used throughout to produce an environmentally friendly log cabin.
Optional felt roof tiles can add an impressive finish to the cabin
Optional 4mm toughened glass and 14mm double glazing can help keep youngsters safe and adds even more insulation and warmth.
Optional side window(s) and window box(s) to style the log cabin to make sure it is just right for you.
Option to have your log cabin installed by our professional team of fitters.
Made to Measure Service available on this Log Cabin to whatever size and style you require just call or email for a free quote.