4 x 4 (1.40m x 1.30m) Mercia Snug Playhouse
Usually delivered: Use Pick A Day delivery below for your earliest delivery date to your Post Code.
Description
For any young children, passing the hours in a miniature house within their own garden will become a favourite way to play with friends. Opting for a high-quality playhouse such as the 4 x 4 Mercia Snug Apex Wooden Playhouse will make sure they have a functional and fun space to play until they are old enough to move on to other things. With a flower window frame and a font window that evokes the four-panel windows of real houses, the Snug Playhouse will soon charm any who hope to find a new place to play.
Features
In order to produce the ideal playhouse possible, Mercia have included a range of features within this tiny building for children that distinguish it from cheaper and lower-quality alternatives. At first glance, this is obvious in details like the wavy bargeboards at the front of the apex roof, the front fixed window, and the signature flower-porthole window in the door.
The safety of children playing in the Snug Playhouse is the utmost concern of parents and the manufacturer alike, which is why many steps are taken to ensure this playhouse is safe to use. All glazing makes use of a styrene material; not only is this transparent and therefore allows light to flood into the interior, but it's a safer option than traditional glass due to its almost shatterproof qualities. It is features like these that allow this playhouse to receive the EN71 safety rating of European toy safety standards.
For its walls, Mercia utilises the excellent 12mm shiplap tongue and groove found in the best of its full-sized garden buildings, which is highly durable and adept at protecting the interior from the elements. Horizontal timber boards are tightly interlocked for maximum strength, and the curved shiplap profile helps to divert rainfall away from any potential vulnerable points in the cladding. Aside from its inherent strength, this cladding looks impressive both from outside and within. It becomes a fantastic canvas for decoration with paint in your child's favourite colours. If you would like to do so, while protecting the timber and keeping your 10-year anti-rot guarantee valid, elbec recommends using the excellent Protek range of wood preservatives.
Elsewhere, construction ensures longevity and stability through other techniques and materials, such as 28mm x 28mm internal timber framing and an OSB floor and roof.
Additional Information
The 4 x 4 Mercia Snug Apex Wooden Playhouse is suitable for children aged 3 and up, and is intended for use in domestic gardens. All timber used in the 12mm shiplap cladding of this playhouse has been dip-treated for the necessary level of protection against rot and other damage from the elements while in transit and during assembly. However, elbec advises applying further treatment soon after to get the best out of the wood and keep your 10-year anti-rot guarantee valid. A high-quality wood preservative can be found in Protek, a paint manufacturer with an excellent range of colours that can be ordered through elbec. Many parents like to ask their children what colour they would like to have for their playhouse prior to purchase, a fun way to put their own stamp on the playhouse.
Delivery
This product will be delivered flat-packed and ready for home assembly, with all the parts and fixtures needed to do so along with an easy-to-follow instruction manual. It will take two adults to build, so elbec recommends enlisting the help of a friend. Experience of putting together similar projects will help to do so more quickly, but it is reasonable to expect the building of this playhouse to take one or two days.
Treating your Playhouse
All Mercia Playhouses are pre-treated with Aquatan, a water-based treatment which results in a golden-brown finish. Our factory applied dip treatment may differ in shade between components as it is simply a basecoat. This treatment only helps to prevent discolouration of the building while in storage and during transit. To validate your guarantee and ensure the longevity of the product, it is essential that the building is treated with a high quality, water-based, timber preservative prior to or shortly after construction. Annual re-treatment is required to maintain your building and the 10 year anti-rot guarantee.
Safety and Suitability
The Mercia Snug Playhouse is only suitable for children aged 36 months or above and must be sited outdoors. The playhouse has been awarded an EN71 Safety Certificate, highlighting the product's quality and providing assurance as to its safety for this age group.
Please note: The Mercia Snug Playhouse is supplied unpainted. Some images may show the product painted and/or decorated with accessories/furnishings. This is for display purposes only. Your order will not be delivered with any of the accessories/furnishings shown.
Delivery
ALL DELIVERIES ARE DELIVERED TO KERBSIDE OR DRIVEWAY. All of our Mercia products are delivered flat packed other than fence panels (which are delivered fully constructed), direct to your home, and are supplied with a set of instructions to support assembly.
Booking Delivery
You will be required to book your delivery date at the time of placing your order (except for Metal Shed). Our 'Request a Delivery Date' service is available to the majority of areas and you'll find that the majority of the UK postcodes are FREE but some areas may incur a delivery surcharge and some postcodes are not covered at all. Select a 'requested delivery date' by entering your postcode in the 'Request a delivery date' section above. You will also be notified at this time if your area incurs a surcharge or delivery is not covered in your area.
Prior to Delivery
On the morning of your delivery date, you'll be sent an update by text with an estimated 2-hour delivery slot (this update can only be provided where a mobile number has been supplied on the billing address section at the time of checkout) together with a link to the manufacturer delivery portal where you'll be able to track your order.
Please note: Mercia Metal Sheds ONLY - your order is delivered by a courier you will not be notified prior to the delivery. If you are not in on the day of the delivery you will be carded and asked to contact the courier to arrange a new mutual delivery date. The estimated delivery lead time for Mercia's Metal sheds is identified on the product for the metal shed. Lead times are on working days (Monday - Friday) excludes Bank Holidays. These estimated lead times are provided by the manufacturer. Some remote areas will take a little longer.
Upon Delivery
Your order is delivered either kerbside or driveway and will be delivered on either a 3.5T, 7.5T or 18T Lorry. Unfortunately due to health and safety and insurance liabilities the driver will not be able to take your goods around to the back of your property but may upon request place the product at the side of the house if there are no access or restriction issues. We would not risk damaging your property whilst delivering a product to an unsafe location. Unfortunately, we will not be able to go through your property.
We would recommend against arranging for a third party to install the building before it's been delivered and checked that all parts are present, as we cannot be held liable for any third-party costs.
Orders with Assembly
The lead time for our installation option is around 7 Weeks from the date of order. With the installation option, the majority of orders will have their delivery and installation on separate days; there will be a small number of orders which will have delivery and installation on the same day. You will be advised by the manufacturer's installation team which category your order falls into.
Depending on the installation option for your order, you will be contacted within the delivery timescale and given a date for either delivery/assembly on the same date or a separate date for delivery and assembly.
Specification
Product Name:
4 x 4 (1.40m x 1.30m) Mercia Snug Playhouse
Footprint Depth:
1.30m (4'1")
Footprint Width:
1.40m (4'5")
Ridge Height:
1.40m (4'6")
Eaves Height:
1.01m (3'4')
Cladding:
Shiplap tongue and groove
Treatment Type:
Dip treated
Manufacturer's Guarantee:
10 year anti-rot guarantee
Framing Size:
28mm x 28mm (11 /10" x 11 /10")
Roof Material:
Solid Sheet
Roofing Felt:
Green mineral
Floor Material:
Solid Sheet
Floor Joists:
28mm x 28mm (11 /10" x 11 /10")
Floor Joist Direction:
Front to back
Door Type:
Single with Flower Motif and Porthole window
Door Height:
0.90m (2'11")
Number of Window(s):
1 x fixed window
Window/Door Panel(s) Interchangeable:
×
Manufacturer's Product Code:
SI-002-002-0001
Manufacturer:
Mercia Garden Products
Country of Origin:
United Kingdom
Quickview
Give your child a first playhouse they will cherish with the charming 4 x 4 Mercia Snug Apex Wooden Playhouse. Some of our favourite details of this playhouse include:
Safe and shatterproof styrene windows creates a light and homely play area for children's games

Single door with a rounded handle and flower porthole window

12mm shiplap tongue and groove cladding creates an impressive look to this playhouse and makes it feel like miniature home for children

A safe and fun place to play, with an EN71 safety rating (in accordance with European toy safety standards)
Key Features
Free UK mainland delivery with 'pick a day' delivery option
Charming miniature design with a 4 x 4 footprint
An affordable yet high-quality timber playhouse for young children
EN71 safety certification in accordance with European toy safety standards
The shatterproof styrene window makes playing inside more comfortable and safe
Tongue and groove cladding will many the playhouse feel like a real home
10-year anti-rot guarantee, assuming straightforward care guide is followed
Mineral roofing felt for extra protection from the elements
Sturdy 8mm solid sheet board used for the roof and floor is robust and resistant to water damage
Customer Reviews
By
A Hampshire
on
30th May 2016
"Very happy with it all. From price to helpful delivery driver. This product is made well and had very easy instructions to follow. Took my husband 2.5 hours to build on his own. We are painting it and it looks great. Our little girl loves it. Would purchase from this company again."

By
Mrs W Clear
on
6th October 2015
"Definitely buy from Elbec again Helpful staff quick delivery and good quality product "

You May Also Like
---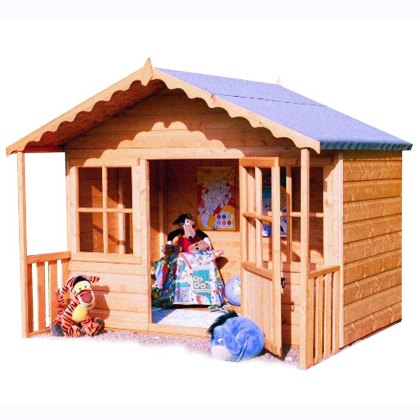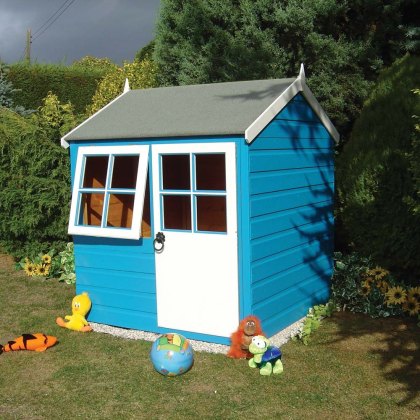 ---