6 x 4 Forest Wooden Reverse Apex Garden Bar - Pressure Treated 25Yr Guarantee
Key Features
Concealed Door Hinges



Concealed hinges, ensuring outside access is not an issue

6 x 4 Forest Wooden Reverse Apex Garden Bar - Pressure Treated 25Yr Guarantee
Usually delivered: Use Pick A Day delivery below for your earliest delivery date to your Post Code.
Description
Transform your garden into the perfect garden party spot with the 6x4 Shiplap Reverse Apex Garden Bar from Forest. This bar is ideal for hosting friends and family, offering a solid top bar and a serving hatch with bifold shutters for serving drinks and food. The high-quality garden bar is suitable for private or commercial use.
You have a storage area above the bar for lightweight items, and you can add shelves and hooks for all your cocktail accessories. The overhanging roof provides extra headroom and protection from the elements. It's the ultimate outdoor bar, and the compact design will fit neatly into a corner of the garden.
It features high-quality interlocking, weather-resistant shiplap cladding. It's not just any garden bar. Its framework is 30% thicker than most wooden garden buildings, so durability is assured. The best part? annual maintenance is a thing of the past. Forest promises a 25-year anti-rot guarantee, offering peace of mind thanks to its pressure treatment.
The modular design allows the access door to be placed at either end to fit perfectly in your garden or outdoor entertaining space. The bifold shiplap shutters open to give you a serving hatch, and internal turn buttons secure the shutters when not in use.
You can also add a lock to the door to use it as secure garden storage. The tongue and groove floor is made from robust, pressure-treated timber to withstand footfall and storage.
Features:
Guarantee - 25-year anti-rot
Walls - Premium Shiplap
Floor - 12mm Tongue and Groove boards for handling heavy loads
Roof - Apex roof with 8mm OSB and green polypropylene backed roofing felt provided
Frame - 28mm x 28mm (doubled up to 56mm)
Floor Bearers - 58mm x 28mm Pressure treated
Door - Single door
Lock Type - Pad Bolt with tamper-proof screws
Treatment - pressure treated
Delivery - White glove service
Make the Most of Your Garden Bar:
The Forest Shiplap Pressure Treated 6x4 Apex Garden Bar is perfect if you love entertaining people in your garden. This outdoor bar with shutters will take your summer garden parties to a new level. The stylish design includes a bar top where you can serve drinks and food. Storage above the bar is perfect for storing glasses, and you can add a couple of bar chairs in front for relaxing with a cocktail. The wooden garden bar features two window openings with shutters for closing up after the party. A high-quality solid timber floor is included, so you can use it as storage in winter. The apex roof gives you lots of headroom to mix drinks with flair. This is for you if you are looking for the best garden bar this summer.
About Your Order:
The Forest Garden Bar is a UK-made pressure-treated shed that features FSC® certified timber. Pressure-treated timbers are used throughout the construction of this shed. The treatment gives you a 25-year guarantee against fungal damage and rot. The simple design and flat-pack delivery make it easy to assemble. All the fixtures and fittings required for assembly are provided. Easy-to-follow instructions are included. We offer a white glove service where our trained professionals will deliver your shed and place it in your desired location within your garden. The delivery team will use their discretion to ensure a safe and reasonable placement of the shed. Please note that unrestricted access is required and the delivery team will not pass through your home or garage. We prioritize the safety of your property and will not deliver to an unsafe location that could potentially cause damage. Additionally, the delivery team will remove all product packaging upon completion of the delivery.
Please note: The Forest Shiplap Pent Garden Bar is supplied unpainted. Some images may show the product painted and/or decorated with accessories/furnishings. This is for display purposes only. Your order will not be delivered with any of the accessories/furnishings shown.
Garden Shed Maintenance:
The wooden garden shed is made from pressure-treated timbers for excellent durability and longevity. Forest's pressure-treated products do not require annual re-treatment. An anti-rot solution in the timber structure, improving rot resistance. The treatment may leave a greenish tinge on the wood; this is normal and will grey over time. Forest Garden Reverse Apex Garden Bar come with a 25-year Anti-Rot guarantee. The manufacturer advises that if you want to paint your garden shed with a different colour, ensure the treatment you choose is recommended for pressure-treated timber.
Note: the 25-year anti-rot guarantee does not include the felt and hardware
elbec recommends Protek wood treatment. Browse our Protek Royal Exterior Wood Finish Paint range to find the best shed paint to add your own finish.
About Forest:
Forest is one of the most trusted manufacturers of garden timber products in the UK. They have been producing high-quality wooden garden buildings for over 50 years. Forest is proud to be a British company and uses sustainable British timber in its products.
The company is at the forefront of design and provides an excellent choice in contemporary summerhouses and modern sheds. All Forest garden buildings are made to make Britain a nation proud of its gardens. Superior quality, cutting-edge design, and excellent security are why Forest has become one of the top choices for customers when buying a garden product.
Please note: The Forest Shiplap Pent Garden Bar is supplied unpainted. Some images may show the product painted and/or decorated with accessories/furnishings. This is for display purposes only. Your order will not be delivered with any of the accessories/furnishings shown.
Delivery
ALL DELIVERIES ARE DELIVERED TO KERBSIDE OR DRIVEWAY. All of the Forest products are delivered flat-packed, (other than fence panels which are delivered fully constructed) direct to your home, and are supplied with a set of instructions to support assembly.
If you have ordered more than one item, they may arrive at different times.
Delivery
With the majority of Forest products, you will be required to book your delivery date at the time of placing your order. Our 'Request a Delivery Date' service is available to the majority of areas and you'll find that the majority of the UK postcodes are FREE but some areas may incur a delivery surcharge and some postcodes are not covered at all. Select a 'requested delivery date' by entering your postcode in the 'Request a delivery date' section above. You will also be notified at this time if your area incurs a surcharge or delivery is not covered in your area.
Where 'Request a Delivery Date' is not available on a product, you will be contacted towards the end of your timescale by Forest/their chosen Courier with a delivery date. If this date is not convenient you can reply to the message to book a more convenient delivery date. The delivery timescales are as stated on the product page.
The delivery timescales to these areas may be extended by up to 5-10 working days:
AB1, AB10,-AB16, AB21-AB25,AB30-AB39, AB41-AB45, AB51-AB56, CA1-CA28, CO1-CO16, DD1-DD10, DG1-DG14, DG16. DH1-DH9, DL1-DL17, DT3-DT7, EH1-EH2,EH10-EH1-EH49,EH51-EH55, EX1-EX24,EX31-EX38, FK1-FK21, G1-G5,G11-G15,G20-G23,G31-G34,G40-G46, G51-G53,G60-G69,G71-G78,G81-G84, IP1-IP33, IV1-IV28,IV30-IV32,IV36,IV40,IV54,IV63, KA1-KA30, KW1-KW14, KY1-KY16, ML1-ML12, NE1-NE1-NE49,NE61-NE70, NR1-NR35, PA1-PA38, PE30-PE37, PH1-PH26, PH30-PH41,PH49-PH-PH50, PL1-PL35, SR1-SR8, TA20, TA22, TD1-TD15, TQ1-TQ14, TR1-TR20,TR26-TR27, AND TS1-TS29.
We are sorry but Forest does not deliver or offer an assembly service to the following Postal Codes:
BT1-BT99, GY1-GY9, HS1-HS9, IM1-IM9, IV41-IV56, JE1-JE5, KA27-KA28, KW15-KW17, PO30-PO41, PO49, TR21-TR25.
Prior to Delivery
Once you have a confirmed delivery date if you provide us with a mobile number this should be the first number and not the alternative number), we can confirm the day before delivery if your delivery will be morning or afternoon.
Upon Delivery
Your order will be delivered kerbside or on your driveway. Due to health, safety, and insurance liabilities, the driver will not be able to take your goods to the back of your property but – upon request – may place the product at the side of the house if there are no access issues. This is to avoid risking damage to your property while delivering to an unsafe location. We will not be able to go through your property.
We advise against arranging for a third party to install the product before its delivered and checking that all parts are present, we cannot be held liable for any third-party costs caused by delays.
Assembly
If you have selected the service for installation, we can confirm that delivery and installation will occur on different days, and the length of time required for delivery and installation will depend on the specific item you have chosen. You will not be able to pre-book a delivery or installation date when placing your order, as this will be arranged directly with the manufacturer. Within 5 working days of placing your order, the manufacturer will contact you via email to explain how to prepare the base for installation. The base must be either a solid, level timber supportive base, concrete, concrete slabs, or a pro shed base (plastic base). You should ensure that there is a clearance of 18 inches (450mm) of working space around the base so that the installers can access all areas of the structure. Shortly after receiving the email from the manufacturer, you will receive a phone call to schedule a convenient delivery and installation date. Installation may occur within 15 working days of delivery. Note: This service is not available on all Forest products, please check if this is available for your chosen product under the 'Choose Additional Options' above.
Specification
Product Name:
6 x 4 Forest Wooden Reverse Apex Garden Bar - Pressure Treated 25Yr Guarantee
Footprint Depth:
1.18m (3'10")
Footprint Width:
1.83m (5'11")
Ridge Height:
2.36m (7'10")
Eaves Height:
1.98m (6'5")
Treatment Type:
Pressure Treated
Recommended Treatment:
Maintenance freedom - wood never needs retreating
Manufacturer's Guarantee:
25 Year Anti-Rot Guarantee
Framing Size:
28mm x 28mm (11 /10" x 11 /10")
Roof Material:
OSB (Oriented strand board)
Roofing Felt:
Green mineral felt
Floor Material:
Tongue and groove boards
Floor Joists:
58mm x 28mm (23 /10" x 11 /10") - Pressure treated
Floor Joist Direction:
Left to right - pressure treated joists
Door Height:
1.65m (5'4") - aperture
Door Width:
0.59m (1'11") - aperture
Door Lock System:
Padbolt (Padlock not supplied)
Number of Window(s):
2 x window openings
Window/Door Panel(s) Interchangeable:
×
Manufacturer Code:
SPA46GBARHD
Manufacturer:
Forest Garden Limited
Country of Origin:
United Kingdom
Quickview
The Forest Pressure Treated Reverse Apex Garden Bar will create the perfect party hub in your garden. The stylish look, apex roof, and bar top give you a complete outdoor entertainment solution. The key features include:
Pressure treated with a 25-year anti-rot guarantee - longest on the market

Serving hatch with bi-folding doors

Use as a bar in summer, storage in winter

Strong solid timber boarded floor that has been pressure treated for longevity
You May Also Like
---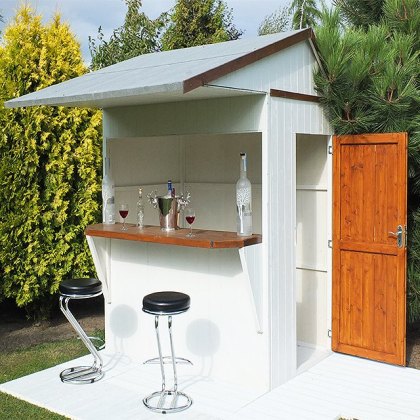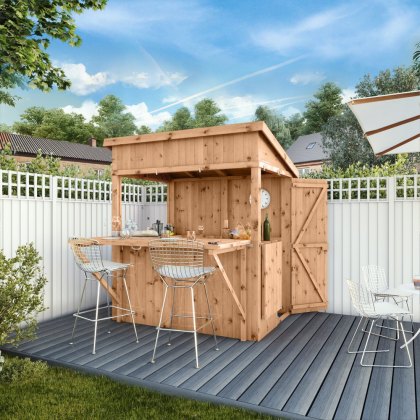 ---