7 x 7 Forest 4Life Overlap Apex Wooden Shed with Double Doors
Key Features
Pick a delivery date



This service means a quicker delivery date when ordering with elbec

7 x 7 Forest 4Life Overlap Apex Wooden Shed with Double Doors
Usually delivered: Use Pick A Day delivery below for your earliest delivery date to your Post Code.
Description
The 7 x 7 Pressure Treated Overlap Apex Garden Shed with Double Doors is a superb storage wooden shed that is suitable for a range of garden sizes. The side fixed windows allows plenty of natural light to enter the shed while the double doors provide maximum ease of access. These features, along with its stylish apex roof, 15 year anti-rot guarantee and FSC approved timber make it a superb wooden garden shed. This shed is also available in various other sizes to give you an even wider choice for the perfect sized shed for your garden.
The Forest 7 x 7 Pressure Treated Overlap Apex Garden Shed has a "modular" design. Modular sheds have many advantages. It means that the wall panels of the shed are manufactured in smaller parts, making handling and assembly easier as well as increasing the overall strength of the building. All Forest modular design sheds come as standard with a 14mm boarded floor for additional strength and a stronger roof support design with metal bracing.
Manufactured from square-cut overlap timber, this shed allows water to smoothly run off the building. For safety, the doors are built with hidden and secure door hinges, supported by a 'Z' frame structure and complete with a plate hasp and staple latch. The windows are glazed in virtually unbreakable P.E.T. and are fitted with security screws. The roof is layered with a weatherproof 'black sand' sheet, adding durability, an extra layer of weather resistance and also good looks.
This shed comes with a 15 year anti-rot guarantee because it is pressure treated. Pressure treated wood is the top of its class when it comes to quality timber products that will last for years. They require less maintenance too, saving you money in the long run. Just make sure to follow the manufacturer's care guidelines to make sure your guarantee remains valid.
You can apply a decorative colour or stain of your choice if you wish to change the appearance of your garden shed; we recommend a water based treatment you must follow the manufacturer's instructions for the treatment being used. Pressure treatment process is pressure impregnated with Osmose Naturewood preservative, an effective method used to preserve wood against fungal decay and insect attack. Osmose is a trusted name in wood preservation and supplies preservative products to a worldwide market. Protek wood treatments are an industry-leading choice for treating your garden shed.
Supplied flat packed for ease of handling and assembly. All fittings and felt are included in the price with clear easy to follow instructions. An optional assembly service is available.
About Forest
Forest Garden Ltd recognises that leadership in its industry carries a responsibility to the environment, and in particular a responsibility to the world's forests. Every product it sells and business operation it undertakes has an impact on the environment. It is impossible to eliminate that impact but it is possible to reduce it by modifying the way the business is run.
The key environmental issues are waste minimization, the prevention of pollution, energy management, and the use of raw materials. Their working practices from harvesting to distribution will use methodology incorporating continual improvement. All current legislation is completed with and the monitoring of forthcoming legislation to ensure further compliance. Forest also monitor the environmental performance, health and safety standards and worker welfare issues of its suppliers.
Delivery
ALL DELIVERIES ARE DELIVERED TO KERBSIDE OR DRIVEWAY. All of the Forest products are delivered flat-packed, (other than fence panels which are delivered fully constructed) direct to your home, and are supplied with a set of instructions to support assembly.
If you have ordered more than one item, they may arrive at different times.
Delivery
With the majority of Forest products, you will be required to book your delivery date at the time of placing your order. Our 'Request a Delivery Date' service is available to the majority of areas and you'll find that the majority of the UK postcodes are FREE but some areas may incur a delivery surcharge and some postcodes are not covered at all. Select a 'requested delivery date' by entering your postcode in the 'Request a delivery date' section above. You will also be notified at this time if your area incurs a surcharge or delivery is not covered in your area.
Where 'Request a Delivery Date' is not available on a product, you will be contacted towards the end of your timescale by Forest/their chosen Courier with a delivery date. If this date is not convenient you can reply to the message to book a more convenient delivery date. The delivery timescales are as stated on the product page.
The delivery timescales to these areas may be extended by up to 5-10 working days:
AB1, AB10,-AB16, AB21-AB25,AB30-AB39, AB41-AB45, AB51-AB56, CA1-CA28, CO1-CO16, DD1-DD10, DG1-DG14, DG16. DH1-DH9, DL1-DL17, DT3-DT7, EH1-EH2,EH10-EH1-EH49,EH51-EH55, EX1-EX24,EX31-EX38, FK1-FK21, G1-G5,G11-G15,G20-G23,G31-G34,G40-G46, G51-G53,G60-G69,G71-G78,G81-G84, IP1-IP33, IV1-IV28,IV30-IV32,IV36,IV40,IV54,IV63, KA1-KA30, KW1-KW14, KY1-KY16, ML1-ML12, NE1-NE1-NE49,NE61-NE70, NR1-NR35, PA1-PA38, PE30-PE37, PH1-PH26, PH30-PH41,PH49-PH-PH50, PL1-PL35, SR1-SR8, TA20, TA22, TD1-TD15, TQ1-TQ14, TR1-TR20,TR26-TR27, AND TS1-TS29.
We are sorry but Forest does not deliver or offer an assembly service to the following Postal Codes:
BT1-BT99, GY1-GY9, HS1-HS9, IM1-IM9, IV41-IV56, JE1-JE5, KA27-KA28, KW15-KW17, PO30-PO41, PO49, TR21-TR25.
Prior to Delivery
Once you have a confirmed delivery date if you provide us with a mobile number this should be the first number and not the alternative number), we can confirm the day before delivery if your delivery will be morning or afternoon.
Upon Delivery
Your order will be delivered kerbside or on your driveway. Due to health, safety, and insurance liabilities, the driver will not be able to take your goods to the back of your property but – upon request – may place the product at the side of the house if there are no access issues. This is to avoid risking damage to your property while delivering to an unsafe location. We will not be able to go through your property.
We advise against arranging for a third party to install the product before its delivered and checking that all parts are present, we cannot be held liable for any third-party costs caused by delays.
Assembly
If you have selected the service for installation, we can confirm that delivery and installation will occur on different days, and the length of time required for delivery and installation will depend on the specific item you have chosen. You will not be able to pre-book a delivery or installation date when placing your order, as this will be arranged directly with the manufacturer. Within 5 working days of placing your order, the manufacturer will contact you via email to explain how to prepare the base for installation. The base must be either a solid, level timber supportive base, concrete, concrete slabs, or a pro shed base (plastic base). You should ensure that there is a clearance of 18 inches (450mm) of working space around the base so that the installers can access all areas of the structure. Shortly after receiving the email from the manufacturer, you will receive a phone call to schedule a convenient delivery and installation date. Installation may occur within 15 working days of delivery. Note: This service is not available on all Forest products, please check if this is available for your chosen product under the 'Choose Additional Options' above.
Specification
Product Name:
7 x 7 (2.13m x 2.32m) Forest Overlap Shed - Pressure Treated
Footprint Depth:
2.11m(6'11")
Footprint Width:
2.19m (7'2")
Ridge Height:
2.18m (7'2")
Eaves Height:
1.59m (5'2")
Treatment Type:
Pressure Treated
Manufacturer's Guarantee:
25 Year Anti-Rot Guarantee
Framing Size:
28mm x 28mm (11 /10" x 11 /10")
Roof Material:
OSB (Oriented strand board)
Roofing Felt:
Black Sand Felt
Floor Material:
Boarded Timber Floor
Floor Joists:
58mm x 28mm - Pressure Treated
Floor Joist Direction:
Left to Right
Door Height:
1.64m (5'4") - aperture
Door Width:
1.18m (3'10") - aperture
Door Lock System:
Plate Hasp and Staple (Padlock not supplied)
Number of Window(s):
2 Fixed windows
Window Material:
0.75mm Polyethylene terephthalate (PET) glazing
Window/Door Panel(s) Interchangeable:
✓
Manufacturer Code:
OPA77DDMHD
Manufacturer:
Forest Garden Limited
Country of Origin:
United Kingdom
Click to View Alternative Sizes:
Quickview
The 7 x 7 Forest Pressure Treated Overlap Apex Shed provides a secure, sheltered space ideal for storing all types of garden equipment at fantastic value for money. The key features include:
2 fixed windows with strong P.E.T. glazing to let in light
Modular design with a range of improved features
Wide opening double doors with hasp and staple for security
Pressure treated with a 15 year anti-rot guarantee for peace of mind
Key Features
Free UK mainland delivery*
Modular design with a range of improved features
15 year conditional anti-rot guarantee
Pressure treated for a longer life
7mm overlap cladding
14mm boarded floor
8mm OSB roof
Black sand felt
All fixings included
Apex roof
Robust shed framing
Wide opening double doors
2 fixed windows glazed in P.E.T.
Hidden door hinges
Plate hasp and staple door closing
Optional assembly service available
Pressure treated floor bearers
You May Also Like
---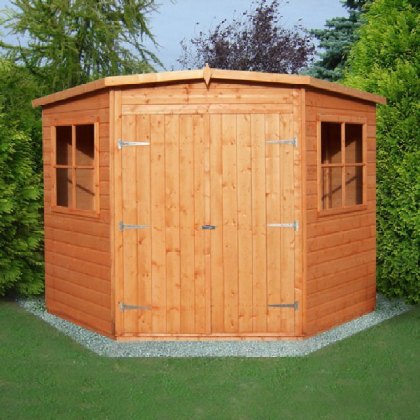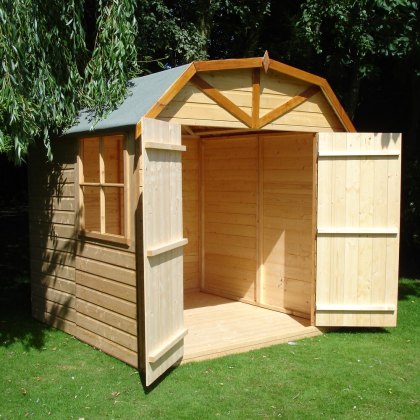 ---