10 x 6 (2.99m x 1.79m) Shire Gold Sandringham Summerhouse
Product Code - 10140062
OFFER ENDS
3RD JANUARY

(4)
Usually delivered: Use Pick A Day Delivery below for the first available delivery date for your Post Code
Description
This summerhouse from our 'Gold' range can only be described as 'Beautiful' and 'Useful'. The Shire 'Gold' range of summerhouses is a range which is both attractive and can be used for almost anything - an extra room for overnight guests, an ideal place to serve drinks during your barbeque or simply your sanctuary to relax in and enjoy your garden. Doubles up as a great space for storage during the winter months when you want a building in your garden which is more scenic.
The Gold range of Summerhouses have generous eaves and ridge height for a more comfortable internal space to entertain in. The fixed Georgian styles bay window and double fully glazed doors in the Sandringham Summerhouse co-ordinate beautifully to give it a traditional style which will look good in all designs of gardens and will ensure ample light and ventilation whilst allowing a remarkably wide viewing angle room with which to appreciate your garden. Just a beautiful summerhouse to dedicate to part of your garden. The decorative fascia gives the Sandringham Summerhouse that 'stand out from the crowd' feel.
This summerhouse is constructed using the best quality spruce and with a strong wall framework. We are proud of our Shire 'Gold' range of summerhouses and the range has endeavoured to consider all details in the design using quality fixtures and fittings, these all give our Shire summerhouse 'Star' quality.
This summerhouse fully deserves its title as a 'Gold' range summerhouse because of its: extra strong framework, high eaves height, high door height, internal hinges on the doors so you will not get trapped fingers and no hinges showing on the outside for extra security. There is an option to customise your Shire Sandringham Summerhouse to a 19mm Pine Log Pattern wall finish.
Fascia and finishing timbers, assembly instructions, hardware and glass are supplied to enable assembly of the building.
The Shire Sandringham Summerhouse is so easy to put together. With just walls, a roof and floor and factory fitted door and window this summerhouse will be up in no time and you can even watch the summerhouse go up if you choose the assembly option!
If you are looking for a summerhouse that is attractive, super strong, has many security features, is multi-functional, is easy to assemble and will stand the test of time the Shire 'Gold' range of summerhouses is the one for you.
When choosing a location for your summerhouse an allowance should be made for the roof overhangs. It is essential that this building is assembled on to a firm, level base. Assembly onto an uneven base will cause problems. All sizes stated on our Shire range of summerhouses are approximate - the metric measurements stated refer to the floor size.
Full assembly instructions are provided with the Sandringham Summerhouse and with all the fittings in the box as standard you will be amazed at how simple this summerhouse is to install. You can of course choose the option to have your summerhouse installed for you.
Layout Options
Below are the configurations for the ShireGold Sandringham Summerhouse.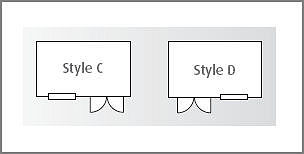 Walls - The walls of the summerhouse are constructed from high quality, FSC certified timber. It uses specially designed pine tongue and groove cladding of 12 x 120mm to give you a summerhouse that is not just durable but also a summerhouse that looks great in your garden. Also our planed tongue and groove shiplap cladding design closes the pores and together with its curved profile promotes the run off of water making the shed more water resistant.
Please Note: There is also the option to have a Tongue and Groove Pine Log Pattern 19 x 114mm wall finish.
Door - The summerhouse doors are made from high quality FSC certified pine tongue and groove cladding and is extra high. The doors are mortised and tenoned, profiled and weather resistant - they match the window with weather resistant lip which covers the aperture and mitred beading. Brass handles add the finishing touch.
Floor - The floor is manufactured from high quality 12mm x 120mm planed pine tongue and groove matching pattern boarding on 45mm x 45mm (2' x 2') joists.
Roof - The roof is manufactured from high quality 12mm x 120mm planed pine tongue and groove matching pattern boarding.
Windows - The summerhouse bay window is glazed with 3mm Horticultural Glass. The glass is retained by profiled beading which is pre-mitred (no awkward corners to be cut). All windows are properly mortised and tenoned profiled and weather resistant. The windows have a unique profiled 'lip' which covers the aperture of the opening in the panel making it weather resistant. Brass casement stays have two levels of opening and are supplied fitted. The bay window allows plenty of light to flood into the summerhouse. You also have the option to upgrade the windows of your summerhouse to toughened glass.
Please note The Shire Gold range of summerhouses are all pre-treated (unless otherwise specified) using a high quality anti-fungicide wood protection primer. We recommend that you treat the summerhouse with a high quality, water-based, timber preservative prior to assembly. This will protect the timber from weathering on your summerhouse making it last longer and will need to be repeated accordingly in relation to manufacturer's instructions.
IMPORTANT INFORMATION: This Shire product is built to order. If you cancel your order at any time after production has commenced you will be liable for the cost of work in progress to date of cancellation. If you cancel an order after it has been despatched you will be liable for the cost of the building and the cost of return unless in the unlikely event the building is faulty.
About The Shire Gold Range:
We are proud of our Shire Gold range of summerhouses and the range has endeavoured to consider all details in the design using quality fixtures and fittings, all exterior fittings are treated against rust. These summerhouses are produced to the highest standards using quality timber from sustainable sources.
The manufacture of our Gold Summerhouses is the UK's leading and one of the oldest established manufacturer of garden buildings, they are the proud manufacturer of the largest timber garden building range produced in the UK. Their range includes Garden Sheds, Log Cabins, Eco Homes, Home Offices, Sheds, Workshops, Summerhouses, Playhouses, Arbours, Storage units and Pet houses. Their UK production facilities cover some 23 acres and include huge undercover stock holding facilities, an advanced high speed timber planing mill, modern well equipped joinery production facility and semi-automated production lines. All Shire garden buildings are manufactured in the UK using the finest spruce timber, imported directly and machined through the most up to date machines to ensure the best quality and best value for money garden sheds in the UK.
Siting Shire Gold Summerhouse:
When choosing a location for your summerhouse an allowance should be made for the roof overhangs. It is essential that this building is assembled on to a firm and level base. Assembly onto an uneven base will cause problems. All sizes stated on our Shire range of summerhouses are approximate and these buildings are made to metric measurements.
Please Note: The picture shows the 10'x 6' Shire Sandringham Summerhouse Style C with two optional opening side windows.
Delivery
ALL DELIVERIES ARE DELIVERED TO KERBSIDE AND ARE FLAT PACKED READY FOR ASSEMBLY
FREE delivery is offered to the majority of mainland UK postcodes but some areas may incur a surcharge and some postcode areas are not covered at all. Please check your postcode in the 'Delivery cost checker' above to confirm availability and any possible surcharges.
Delivery Leadtimes
The estimated delivery lead time for this product is identified on the product page above. Lead times are in working days (Monday - Friday) excludes Bank Holidays. These estimated lead times are provided by the manufacturers and are not guaranteed - due to fluctuation in demand - but are provided in good faith and are representative of delivery at that time. Some remote areas will take a little longer.
Booking Delivery
By entering your postal code in the 'Pick a delivery day. ENTER POSTCODE' Box above you can select a delivery date. The evening before this delivery date you will be sent a text message (where a mobile has been provided) with an estimated delivery window. This update can only be provided where a mobile number has been supplied on the billing address section at the time of checkout.

Upon Delivery
Delivery is made by Shire the manufacturer. Delivery of this item is typically made by a 17 ton flat-bed (similar size to a council refuse lorry). Delivery is typically between 7am and 7pm. The delivery drivers are only insured to deliver to kerb side or driveway. We would not risk damaging your property whilst delivering a product. Unfortunately we will not be able to go through your property. Deliveries are hand-balled off by the driver.
We would recommend against arranging for a third party to install the building before it's been delivered and checked that all parts are present, as we cannot be held liable for any third-party costs.

Installation option
If you are choosing the installation option after placing your order you'll be contacted within 5 working days by Shire the manufacturer either by a text message or automated telephone message (the latter if a mobile number is not supplied). This message will supply you with the name of the website to go on to where you will be required to accept the terms and conditions for assembly. Any delay in accepting these terms and conditions may affect your timescale. Once you have accepted these terms and conditions you will be contacted during the timescale with a date for the delivery/assembly of your order. The installation option will extend your lead time by up to 15-25 working days. This may take longer during seasonal periods. Please be aware that the installation team will require full access to your garden, 18" clearance all around the building and a firm and level base. Shire's installation team will not bring a building through your home as they are not covered by insurance to enter a customer's home.
Specification
Product Name:
10 x 6 (2.99m x 1.79m) Shire Gold Sandringham Summerhouse
Footprint Depth:
1.790m (5'10")
Footprint Width:
2.99m (9'9")
Ridge Height:
2.190m (7'2")
Eaves Height:
1.768m (5'9")
Cladding:
Tongue and Groove
Treatment Type:
Dip treated basecoat
Manufacturer's Guarantee:
10 Year Anti-Rot Guarantee
Framing Size:
45mm x 45mm (2" x 2")
Roof Material:
Tongue and Groove
Roofing Felt:
Mineral Felt
Floor Material:
Tongue and Groove
Floor Joists:
45mm x 45mm (2" x 2")
Floor Joist Direction:
Side to Side
Door Type:
Fully Glazed Double Doors
Door Height:
1.750m (5'8")
Door Width:
0.692mm (2'3") - Each Door
Door Lock System:
Door Lock and Key (key provided)
Number of Window(s):
1 x Large Fixed Bay Window
Window Material:
3mm Horticultural Glass
Window/Door Panel(s) Interchangeable:
✓
Manufacturer's Product Code:
SANR1006DSL-1AA
Manfacturer:
Shire Garden Buildings Ltd
Country of Origin:
United Kingdom
Quickview
As one of our best selling summerhouses it can best be described as beautiful and useful.
Bay window included
Extra Secure proper joinery door and with full length concealed hinges
Factory fitted doors and windows for quick and easy assembly.
If you do not see the size you need we offer a made to measure service
Key Features
FREE UK MAINLAND DELIVERY*

Quality without Compromise
A very high specification summerhouse with stylish good looks
Tongue and Groove Shiplap walls with option for 19mm log pattern boarding
Tongue and Groove Roof and Floor
Extra Strong Framework 45mm x 45mm (2' x 2')
Extra High Eaves Height for added comfort
Extra High Door Height
Full length concealed Hinges on the Door meaning no trapped fingers and extra security
1 x Fixed Bay Window
Delivered Flat-Packed With Instructions, Fittings and Green Mineral Roofing Felt
Available in two styles
Option for additional side window(s)
Option to upgrade to toughened glass
Option to increase the Eaves Height
Option to Insulate and Line
Option of Assembly
FSC Certified
Bespoke and Made to Measure
Made to Measure Service on the Shire Gold Sandringham Summerhouse
All our Professional Sheds are made to order. As well as our extensive number of sizes within our Shire Gold Sandringham Summerhouse range you have the option to have a garden shed designed by you. If you require a size that is not shown, additional doors, without a floor, extra high eaves height, or any other specification, we can provide a quote free of charge. To obtain a quote simply call our Sales Team on 0115 965 9900 or email in to: customercare@elbec.co.uk
Customer Reviews
By
MR CLIVE WHITE
on
16th July 2016
"Last year I purchased from you a 10ft x 6ft Shire Gold (formerly Goodwood Gold) Sandringham Summerhouse. Along with my two son-in-laws we erected it one Sunday and I am totally pleased with the result. The instructions were quite easy to follow but suggest they are read twice before erecting. The summerhouse is very well made and is sturdy and looks good in my garden (photo attached). I have since ordered a 13ft x 7ft shed which again is super quality and like the summerhouse proves to be excellent value for money. Also just this week I have also ordered a 4ft x 4ft playhouse for the grandchildren. Your staff are very friendly and helpful when ordering and your delivery man was very polite and helpful too. Thank you to all concerned. I would certainly recommend your quality and value for money buildings "

By
Mr May
on
12th October 2015
"We ordered a 10'x8' summerhouse from Elbec Garden Buildings because their list price was £200 cheaper for a Shire building than other suppliers. They kept me informed right up to the delivery, which was well within the informed time slot. I'm glad that I elected to assemble the building myself because it meant that I could treat the timber with wood preservative. It took more than 20 litres. The quality of the wood finish is pretty rough in quite a few places. This maybe ok for a garden shed but not a summerhouse. So quite a bit of 'fettling' was needed to remove these rough edges. The window beads were even worse, but because they give you plenty of spares you can select enough to do the job. Apart from these few negatives, the summerhouse is a resounding success and we are really glad we bought it."

By
Samantha Malkin
on
14th January 2015
"Summerhouse: I bought the Goodwood Gold Sandringham last summer from Elbec and can't fault the service I received. A sturdy structure and very well made. If you are looking for something that looks more than a glorified shed, this is the one to go for. "
By
Mrs Samantha Malkin
on
10th June 2014
"THRILLED WITH SUMMERHOUSE: To Customer Care, Hi, just emailing to let you know how thrilled I am with my Summerhouse. It isn't quite finished but when its done I'll send you a photo. We had a problem with the last section of the roof but my hubby is handy so its ok. I think you'll get quite a few orders from the photo, it is really lovely. From Samantha Malkin "