5 x 3 (1.60m x 0.859m) Mercia Overlap Apex Shed - Windowless
Usually delivered: Use Pick A Day delivery below for your earliest delivery date to your Post Code.
Description
Compact but capable best describes this attractive overlap apex shed from Mercia. Particularly suitable for small gardens, this unobtrusive storage solution is more than up for the job when it comes to storing those often used items such as tools and lawnmowers. Made from durable overlap cladding and attached to a 28mm x 28mm frame, the storage shed also comes complete with a sand-felt coated OSB roof giving confident protection against all-weathers. A hard-wearing solid sheet floor should be tough enough for anything you can throw at it and the supplied bearers will give sufficient clearance from your base to resist mould and damp. Being a windowless design means that whatever you keep inside will be out of sight and by adding your own padlock to the supplied hasp and staple, safely secure too! Modest in size but competent and capacious, this rustic looking garden store will integrate well into most garden settings.
Features:
About the Timber and Cladding
Being constructed utilising rough sawn overlap timber, the shed has that instant rugged appeal and its rustic look is an attractive feature. Overlap cladding while not only being sturdy and simple to manufacture offers great water-resistance through its louvred orientation. The boards being angled and lapped sufficiently to aid water run-off, also offer great ventilation properties helping minimise condensation.
FSC certified timber is used throughout the body of the building and with the peace of mind of our 10-year anti-rot warranty, you can be assured that by following a basic care regimen your shed should look good for years to come.
Having a single door keeps the design uncomplicated and with its durable, braced assembly and galvanised metal hinges it is kept in place with a simple turn button. Although the shed doesn't come with a lock, provision is made for this using a sturdy hasp and staple which is included in the kit.
Roof and Floor
OSB (Oriented Strand Board) is a tried and trusted material used widely in the manufacturing industry. It's a solid and highly water-resistant material with similar properties to plywood. Coupled with a protective layer of sand-felt, your shed roof will remain water resistant and weather-proof well into the future. Similarly, the same material is utilised in the floor and with the attached bearers high load-bearing properties are achieved and problems with damp and mould are kept to a minimum.
The Kit
Even though a convenient service to erect the shed can be purchased, don't be surprised to find how easy this shed is to install yourself. With a little help, some basic tools and a spare few hours you could soon have the satisfaction of building this fabulous budget-friendly building which could be an attractive and practical feature for your garden.
Please note:
All our sheds are pre-treated with a water based timber treatment for protection during transit. In order to receive the full 10-year anti-rot guarantee on your shed, it is necessary that you treat the shed with high quality, water-based, timber preservative prior to or shortly after construction. This will protect the timber from weathering on your shed and will need to be repeated accordingly in relation to the manufacturer's instructions. This guarantee does not cover twisting, warping or splitting of the timber over time.
Elbec recommends Protek Royal Exterior wood finish, available from ourselves in many different colours. This is also a great way to refresh the look of your shed over time or personalise it to your liking.
General
If you think that a Mercia Overlap Shed would be perfect for you, take a look at our delivery information. If you would like any extra details, please feel free to email us to discuss your order and our full range of product options, or better still, give us a call so we can find the perfect product to suit your needs.
Alternatively, why not visit us at our Brookfields Garden Centre show site near Nottingham? One of our helpful advisors will be on hand to show you around or to help guide you through your order in person.
(Please be aware if there is a particular garden building you would like to see, we recommend contacting us in advance to find out if we have it, or one similar, on site.)
Delivery
ALL DELIVERIES ARE DELIVERED TO KERBSIDE OR DRIVEWAY. All of our Mercia products are delivered flat packed other than fence panels (which are delivered fully constructed), direct to your home, and are supplied with a set of instructions to support assembly.
Booking Delivery
You will be required to book your delivery date at the time of placing your order (except for Metal Shed). Our 'Request a Delivery Date' service is available to the majority of areas and you'll find that the majority of the UK postcodes are FREE but some areas may incur a delivery surcharge and some postcodes are not covered at all. Select a 'requested delivery date' by entering your postcode in the 'Request a delivery date' section above. You will also be notified at this time if your area incurs a surcharge or delivery is not covered in your area.
Prior to Delivery
On the morning of your delivery date, you'll be sent an update by text with an estimated 2-hour delivery slot (this update can only be provided where a mobile number has been supplied on the billing address section at the time of checkout) together with a link to the manufacturer delivery portal where you'll be able to track your order.
Please note: Mercia Metal Sheds ONLY - your order is delivered by a courier you will not be notified prior to the delivery. If you are not in on the day of the delivery you will be carded and asked to contact the courier to arrange a new mutual delivery date. The estimated delivery lead time for Mercia's Metal sheds is identified on the product for the metal shed. Lead times are on working days (Monday - Friday) excludes Bank Holidays. These estimated lead times are provided by the manufacturer. Some remote areas will take a little longer.
Upon Delivery
Your order is delivered either kerbside or driveway and will be delivered on either a 3.5T, 7.5T or 18T Lorry. Unfortunately due to health and safety and insurance liabilities the driver will not be able to take your goods around to the back of your property but may upon request place the product at the side of the house if there are no access or restriction issues. We would not risk damaging your property whilst delivering a product to an unsafe location. Unfortunately, we will not be able to go through your property.
We would recommend against arranging for a third party to install the building before it's been delivered and checked that all parts are present, as we cannot be held liable for any third-party costs.
Orders with Assembly
The lead time for our installation option is around 7 Weeks from the date of order. With the installation option, the majority of orders will have their delivery and installation on separate days; there will be a small number of orders which will have delivery and installation on the same day. You will be advised by the manufacturer's installation team which category your order falls into.
Depending on the installation option for your order, you will be contacted within the delivery timescale and given a date for either delivery/assembly on the same date or a separate date for delivery and assembly.
Specification
Product Name:
5 x 3 (1.60m x 0.859m) Mercia Overlap Apex Shed - Windowless
Footprint Depth:
1.460m (4'9) - Excluding Roof Overhang
1.604m (5'3") - Including Roof Overhang
Footprint Width:
0.795m (2'7") - Excluding Roof Overhang
0.859m (2'10") - Including Roof Overhang
Ridge Height:
1.92m (6'3")
Eaves Height:
1.56m (5'2")
Treatment Type:
Golden Brown Base Coat Dip Treatment
Manufacturer's Guarantee:
10 Year Anti-Rot Guarantee
Framing Size:
28mm x 28mm (11 /10" x 11 /10")
Roof Material:
OSB (oriented strand board)
Roofing Felt:
Green Mineral Felt
Floor Material:
Solid Sheet Board
Floor Joists:
28mm x 28mm (11 /10" x 11 /10")
Floor Joist Direction:
Left to right
Door Lock System:
Turn Button
Window/Door Panel(s) Interchangeable:
×
Manufacturer's Product Code:
SI-001-001-0173
Manufacturer:
Mercia Garden Products Ltd
Country of Origin:
United Kingdom
Quickview
Being particularly suitable for the smaller garden, this Mercia Overlap Apex Shed is more than capable when it comes to storing those often used garden tools. With attractive rustic charm, and easy assembly utilising quality materials the building will look great in any garden environment. Key features include:
Free UK Delivery *
10 Year Anti Rot Guarantee; Designed to offer many years of service
8mm Overlap Cladding; Creates a strong, weatherproof panel and features a traditional design
Factory Dip Treated; A temporary water based treatment for protection against fungal and insect attack
Easy Build; Features a simple construction for a hassle-free installation
What is included?
FREE UK MAINLAND DELIVERY*
FREE pick your own delivery date*
2 hour delivery slot
Delivered flat-packed with instructions, fittings and roofing felt, allowing you to complete assembly quickly and easily
Solid OSB roof and floor
Forest Stewardship Council (FSC) Certified timber is used throughout to produce an environmentally friendly garden building
You May Also Like
---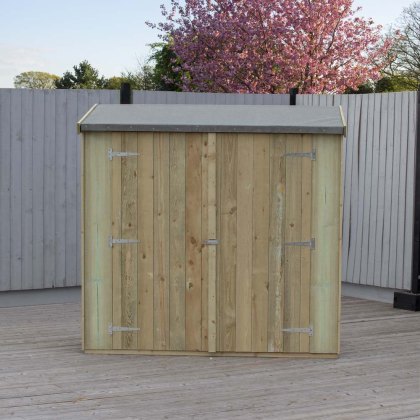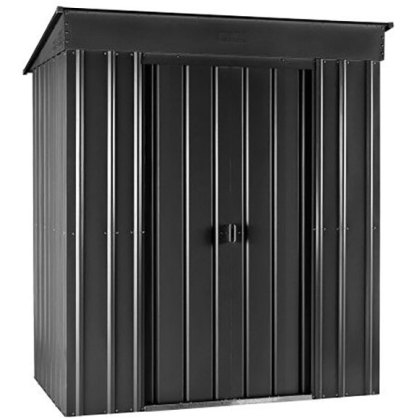 ---