Forest Firenze Corner Garden Arbour Seat - Pressure Treated - 5'11 x 5'11 (1.8m x 1.8m)
Forest Firenze Corner Garden Arbour Seat - Pressure Treated - 5'11 x 5'11 (1.8m x 1.8m)
Usually delivered: Use Pick A Day delivery below for your earliest delivery date to your Post Code.
Description
This stylish Forest Firenze Corner Garden Arbour Seat will bring any garden to life with its striking modern design and ample space for socialising and making memories, comfortably seating up to 4 people. Relax in style with family and friends or take some time for yourself to enjoy the comfort of the sloped backbench seats and the versatile connecting area between the benches which can function as a multipurpose integral table to support all your entertaining requirements. Manufactured from smooth-planed timber for a superior finish and offering ample light thanks to its slatted roof and sides, the Firenze Corner Garden Arbour Seat brings all the ambience you desire right into your back garden, whilst also offering the ideal environment for climbing plants to thrive. Its unpainted finish allows you the freedom to decorate the Firenze Corner Garden Arbour Seat to suit your garden space and bring a splash of colour that will brighten your seating area.
The beauty of the Forest Firenze Corner Garden Arbour Seat is that not only is it self-assembled and delivered with all the fixtures and fittings required for you to conveniently do so, you can also assemble all related products in a structure and order that suits your garden through the changing seasons and sunlight so that you're always getting the best view. Built to host memories that will last a lifetime, the pressure treated FSC® certified timber comes with a 15 year anti-rot guarantee to ensure that this beautiful arbour has the longevity to see you through every season in style. Supplied flat packed, including the necessary fixings and easy to follow instructions, you could be enjoying the enriching benefits of the Firenze Corner Garden Arbour Seat within a weekend.

We're proud to stock a wide range of Protek Royal Exterior paint in over 60 colours to perfectly customise your Forest Firenze Corner Garden Arbour Seat to suit your style, making it easy to find a shade to match your cushions and ornaments for extra cosiness. Though we've included some of our most popular colours with this product, you can browse the full range of Protek Royal Exterior Wood Finish Paint here to find the colour that's perfect for you.
Please note: some images may show the Forest Firenze Corner Garden Arbour Seat painted and decorated with accessories/furnishings. This is for display purposes only. Your order will not be delivered with any of the accessories/furnishings shown.
About Forest
Forest Garden Ltd is the UK's leading manufacturer and distributor of timber garden products. They are proud to be a British company using sustainable, British timber. The majority of the FSC® certified timber they use is grown and felled from managed UK forests across Scotland and endorsed by all major environmental charities. After felling, the timber is cut and processed in a nearby sawmill and taken to their manufacturing operation in rural Worcestershire. At their manufacturing site, they are always investing in technology to ensure product consistency and quality. It is there that they produce the widest range of garden buildings, fencing and structures available in the UK.
Many of Forest's products come with high specification features at no extra cost, and they also offer free delivery and pick your own delivery dates to the vast majority of mainland UK addresses. This cements their reputation as the "go-to" choice for thousands of customers looking to enhance their gardens every year.
Delivery
ALL DELIVERIES ARE DELIVERED TO KERBSIDE OR DRIVEWAY. All of the Forest products are delivered flat-packed, (other than fence panels which are delivered fully constructed) direct to your home, and are supplied with a set of instructions to support assembly.
If you have ordered more than one item, they may arrive at different times.
Delivery
With the majority of Forest products, you will be required to book your delivery date at the time of placing your order. Our 'Request a Delivery Date' service is available to the majority of areas and you'll find that the majority of the UK postcodes are FREE but some areas may incur a delivery surcharge and some postcodes are not covered at all. Select a 'requested delivery date' by entering your postcode in the 'Request a delivery date' section above. You will also be notified at this time if your area incurs a surcharge or delivery is not covered in your area.
Where 'Request a Delivery Date' is not available on a product, you will be contacted towards the end of your timescale by Forest/their chosen Courier with a delivery date. If this date is not convenient you can reply to the message to book a more convenient delivery date. The delivery timescales are as stated on the product page.
The delivery timescales to these areas may be extended by up to 5-10 working days:
AB1, AB10,-AB16, AB21-AB25,AB30-AB39, AB41-AB45, AB51-AB56, CA1-CA28, CO1-CO16, DD1-DD10, DG1-DG14, DG16. DH1-DH9, DL1-DL17, DT3-DT7, EH1-EH2,EH10-EH1-EH49,EH51-EH55, EX1-EX24,EX31-EX38, FK1-FK21, G1-G5,G11-G15,G20-G23,G31-G34,G40-G46, G51-G53,G60-G69,G71-G78,G81-G84, IP1-IP33, IV1-IV28,IV30-IV32,IV36,IV40,IV54,IV63, KA1-KA30, KW1-KW14, KY1-KY16, ML1-ML12, NE1-NE1-NE49,NE61-NE70, NR1-NR35, PA1-PA38, PE30-PE37, PH1-PH26, PH30-PH41,PH49-PH-PH50, PL1-PL35, SR1-SR8, TA20, TA22, TD1-TD15, TQ1-TQ14, TR1-TR20,TR26-TR27, AND TS1-TS29.
We are sorry but Forest does not deliver or offer an assembly service to the following Postal Codes:
BT1-BT99, GY1-GY9, HS1-HS9, IM1-IM9, IV41-IV56, JE1-JE5, KA27-KA28, KW15-KW17, PO30-PO41, PO49, TR21-TR25.
Prior to Delivery
Once you have a confirmed delivery date if you provide us with a mobile number this should be the first number and not the alternative number), we can confirm the day before delivery if your delivery will be morning or afternoon.
Upon Delivery
Your order will be delivered kerbside or on your driveway. Due to health, safety, and insurance liabilities, the driver will not be able to take your goods to the back of your property but – upon request – may place the product at the side of the house if there are no access issues. This is to avoid risking damage to your property while delivering to an unsafe location. We will not be able to go through your property.
We advise against arranging for a third party to install the product before its delivered and checking that all parts are present, we cannot be held liable for any third-party costs caused by delays.
Assembly
If you have selected the service for installation, we can confirm that delivery and installation will occur on different days, and the length of time required for delivery and installation will depend on the specific item you have chosen. You will not be able to pre-book a delivery or installation date when placing your order, as this will be arranged directly with the manufacturer. Within 5 working days of placing your order, the manufacturer will contact you via email to explain how to prepare the base for installation. The base must be either a solid, level timber supportive base, concrete, concrete slabs, or a pro shed base (plastic base). You should ensure that there is a clearance of 18 inches (450mm) of working space around the base so that the installers can access all areas of the structure. Shortly after receiving the email from the manufacturer, you will receive a phone call to schedule a convenient delivery and installation date. Installation may occur within 15 working days of delivery. Note: This service is not available on all Forest products, please check if this is available for your chosen product under the 'Choose Additional Options' above.
Specification
Product Name:
Forest Firenze Corner Garden Arbour Seat - Pressure Treated - 5?11 x 5?11 (1.8m x 1.8m)
Footprint Depth:
1.80m (5'11")
Footprint Width:
1.80m (5'11")
Ridge Height:
1.97m (6'5")
Eaves Height:
1.97m (6'5")
Treatment Type:
Pressure Treated
Manufacturer's Guarantee:
15 year anti-rot
Manufacturer's Product Code:
FIRENZECAHD
Manufacturer:
Forest Garden Limited
Quickview
Fulfill all your entertaining needs throughout the year with Forest's Firenze Corner Garden Arbour Seat. Features include:
Versatile connecting area between the benches for a multipurpose integral table
Sloped back bench seats for up to 4 people to comfortably relax
Slatted roof and sides to maximise light exposure and provide an ideal structure for climbing plants
Key Features
FREE UK Mainland Delivery. *
PRESSURE TREATED for a longer life.
Planed timber to give a smooth finish.
Comfortably seats up to 4 people
15 Year Anti-Rot Guarantee**
FSC Certified Timber.
Flat Packed for easy assembly.
You May Also Like
---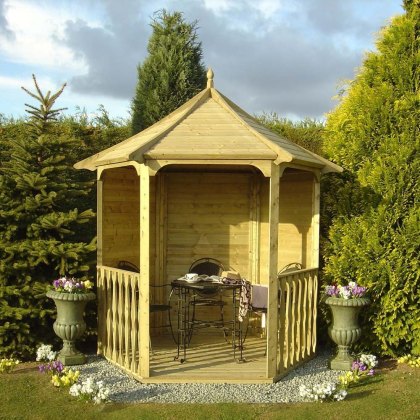 ---