5'3' (1.59m) Wide Elite Streamline Aluminium Greenhouse Range
Usually delivered: Aluminium 4-5 weeks - Colour 8-10 Weeks.
Description
Please note: Elite products are built to metric measurements and all measurements are approximate the imperial measurements below are nominal. Where there is a built in base the Eaves and Ridge heights includes the built in base.
| | | | |
| --- | --- | --- | --- |
| Nominal Size Elite Streamline Greenhouse | 5' x 4' | 5' x 6' | 5' x 8' |
| Width (Door Side) | 1590mm | 1590mm | 1590mm |
| Length | 1351mm | 1971mm | 2589mm |
| Ridge Height (incl Base) | 2122mm | 2122mm | 2122mm |
| Eaves Height (incl Base) | 1425mm | 1425mm | 1425mm |
| Door | Double | Double | Double |
| Door (Height) | 1750mm | 1750mm | 1750mm |
| Door (Width) | 600mm | 600mm | 600mm |
| Drop Door as Standard | YES | YES | YES |
| Built in Base as Standard | YES | YES | YES |
| Roof Vent(s) | 1** | 1** | 1** |
| Louvre Vent(s) | Optional | Optional | Optional |
| Horticultural Glass | YES | YES | YES |
| Toughened Glass | Optional | Optional | Optional |
| Diamond Staging | Optional | Optional | Optional |
| Diamond Shelving | Optional | Optional | Optional |
| Rainwater Collection Kits | Optional | Optional | Optional |
| Water Barrels | Optional | Optional | Optional |
| Heating Systems | Optional | Optional | Optional |
| Coloured Bar Capping | Optional | Optional | Optional |
The width and length measurements are external base measurements but do not include any roof overhangs. If you are placing your greenhouse in a tight space you should consider the space for the integral gutter.
** Additional can be purchased as an optional extra
Delivery
ALL DELIVERIES ARE DELIVERED TO KERBSIDE OR DRIVEWAY, DELIVERIES CAN BE MADE TO THE BACK OF THE PROPERTY SO LONG AS THERE ARE NO ACCESS OR RESTRICTION ISSUES. PRODUCTS ARE DELIVERED FLAT PACKED READY FOR ASSEMBLY
On Order
Once you have placed your order you will receive three automatic emails from elbec about your order.
Booking Delivery
Between 15-20 working days after placing your order you'll be contacted by telephone by our manufacturer's delivery team with a delivery date. Your delivery is made by Elite's own transport.
Delivery Leadtimes
The estimated delivery lead time for this product is identified on the product page above (please be aware if ordering a coloured greenhouse the leadtime is extended by up to 2 weeks). Lead times are in working days (Monday - Friday) excludes Bank Holidays. These estimated lead times are provided by the manufacturers and are. These estimated lead times are provided by the manufacturers and are not guaranteed - due to fluctuation in demand - but are provided in good faith and are representative of delivery at that time. Some remote areas will take a little longer.
Upon Delivery
Delivery is between 7am to 7pm. Your order is a kerbside delivery in many instances the driver can deliver your order either to the side of your property or the back. You do not have to be present on the day of the delivery. If you are unable to be present please can you let the delivery team know when they call to book in your delivery date, as they will be able to leave the item somewhere safe this would be at your own risk. There must be no access or restriction issues. Unfortunately we will not be able to go through your property.
Delivery Areas:
A delivery surcharge may apply to deliveries offshore or some remote parts of Scotland. Please contact our Sales Team through our 'Contact Us' Section.
Quickview
Elite greenhouses are built to last and have an unrivalled range of greenhouse sizes and accessories.
Integral Aluminium Base
Aluminium Integral Gutter add extra strength
Easy access for wheelbarrows and wheelchairs

10 Year Frame Guarantee
Description
Using the core elements found in the Elite Compact Greenhouse the Streamline Greenhouse boasts additional working area for the grower with bigger ideas yet still ideally suited for smaller gardens or country courtyards. This greenhouse is available in unlimited lengths starting from 4'5'. The Elite Streamline Greenhouse is specifically designed to provide you with maximum growing space - you can fit a big hobby in a small space! The Elite 5'3' Wide greenhouse provides an opportunity for some of the good life. It provides a superb and practical environment to involve the family in spending time together, learning, growing and enjoying healthy and nutritional home produced food. Elite's motto is 'Made by our Family for your Family'.
This greenhouse is packed with many features found on larger models. Built-in gutters add extra strength and help to aid drainage. The double sliding doors take the gentlest of touches to open and close and includes a durable door catch. Also the Elite Streamline comes with an integral base with double drop doors which gives this greenhouse ground level access and thus allows ease of access for wheelbarrows and wheelchairs. The large roof vent 4 ft square (0.372 sq m) provides airiness. Roof vent(s) are supplied as standard, the number of roof vent(s) supplied as standard depends on the length of the greenhouse please refer to the specification table below. Elite Greenhouses also offer an amazing number of optional accessories.
When choosing the length of greenhouse we would always recommend that you go for the largest greenhouse possible as you may want to extend the variety of items you wish to grow. Elite buildings are modular and increase in increments of 2' therefore there are unlimited lengths which allows you to tailor your greenhouse to your own requirements.
If you wish to replace the standard horticultural glass with perspex glazing, or add a partition with double doors and/or require a greenhouse length which is not shown you can contact our Sales Team Sales Team through our 'Contact Us' Section for a free quote.
Assembly - Product comes flat packed for self assembly.

Construction - All Elite Greenhouses comes with it own set of comprehensive instructions. For most sized greenhouses, depending upon ability, speed and helpers available a building can be completed within a weekend. The majority of greenhouses are constructed on to a solid foundation surface, however if your greenhouse is being constructed on to soil or grass you will need to order a 'Soft Soil Plinth. Please contact our Sales Team through our 'Contact Us' Section for a price.
About Elite Greenhouses
Elite Greenhouses has been established for over 50 years and boasts a considerable reputation for quality and service which is hard to match. The values of Elite have not changed over the years their formula is simple and instilled throughout their range. They continue to produce a life long greenhouse, born from experience and manufactured with pride. Elite have the broadest range of greenhouses, a distinct product, in the widest of optional colours and their greenhouses are complemented with a vast array of optional accessories to make your Elite greenhouse unique. An Elite greenhouse will leave their factory packaged and distributed with as much care as the very first one over 50 years ago. Elite use their own fleet of vehicles ensuring your greenhouse arrives ready to provide growth, pleasure and enjoyment for many years to come. All Elite Greenhouse components confirm to British Standards.
Please Note: For customers choosing the Aluminium (Alloy) greenhouse frame in the 'Choose any additional extras' section above where the images show the standard features or optional extras in a powder coated color finish, the powder coated colour finish is only supplied when ordering a powder coated colour finish greenhouse frame. With the exception of optional bar capping this is supplied in the colour you select.
Image Shows: The 8' x 5' Elite Streamline Aluminium Greenhouse with integral base, drop doors, Manual Roof Vent, and with the following options: full sheet toughened glass, 7 Slat Aluminium Diamond Staging, 2 Slat Aluminium Diamond Shelving and Side Louvre Vent. Please refer to the 'Detailed Specification Section' for standard features and optional extras.
Key Features
Price includes:
Aluminium frame as standard
3mm Horticultural glass as standard
Integral Aluminium Base
Large roof vent
Double Doors
Drop Sliding Doors
Ground level access
Double Door Catch
Cambered Cill
Aluminium Integral Gutter
Stainless Steel Clips
High Tensile Nuts and Bolts
10 Year Frame Guarantee
FREE UK Mainland Delivery*
You May Also Like
---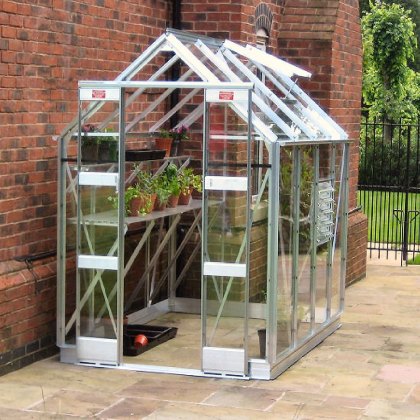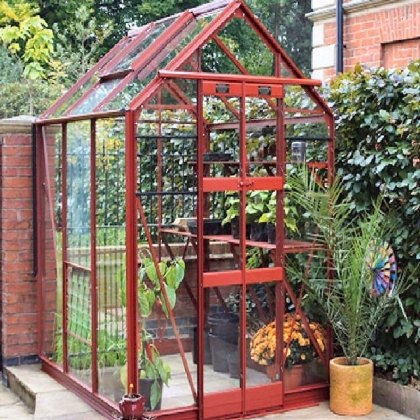 ---