premium
range
Detailed Specification
Standard Specifications for the Shire Bradenham Log Cabin
The Table below shows the specification for the Shire Bradenham Log Cabin in 28, 34, 44 and 70mm Logs. All imperial measurements are approximate and the log cabins are built to metric measurements. The width and length measurements are the base sizes and are taken to the extreme external length of the log including the wall corner joints that protrude. The base measurements do not include any roof overhangs. The 'G' on the log cabin sizes means the 'gable end' which is the door side for the Bradenham Log Cabin. These log cabins are supplied untreated.
| | |
| --- | --- |
| 13' x 15' Shire Bradenham Log Cabin | 28mm Log Thickness |
| Footprint External Base (Front Width x Depth)** | 3800mmG x 4490mm (13gx15') |
| Footprint Internal Base (Front Width x Depth)** | 3550mmG x 4240mm (13g x 15') |
| Front Roof Overhang: | 200mm |
| Side Roof Overhang: | 130mm |
| Height to Eaves: | 2.1m (6'11") |
| Height to Ridge: | 2.5m (8'2") |
| Floor Included: | OPTIONAL FLOOR AVAILABLE |
| Floor Thickness: | OPTIONAL 14mm Tongue and Groove |
| Floor Bearers: | 34 x 61mm Pressure Treated (when purchased with Optional Floor) |
| Roof Thickness: | 14mm Tongue and Groove |
| Roof Joists: | 44 x 70mm OR depths 12ft and over 40 x 120mm |
| Window and Door Joinery: | 44 x 58mm |
| Door: | Double Door (located on the 13ft Front Width) and Single Door (located on the 15ft Depth) |
| Door (Height x Width): | Double Door: 2.0m(H) x 2.6m(W) (6'6" x 8'6"), Single Door: 2.0m(H) x 0.9m(W) (6'6" x 2'11") |
| Number of Windows: | 2 Opening Windows (located on the 15ft depth) |
| Window Glazing: | Horticultural Glass |
| Window (Height x Width): | 0.9m(H) x 0.8m(W) (2'11" x 2'7") |
| Door and Window Reversible: | Single Door and the 2 Windows located on the 15ft depth can be located on either 15ft depth (they cannot be split all have to be relocated together) |
| Positioning of Window Hinges: | Top Hinged, Hinged Right-Hand Side or Hinged Left-Hand Side |
| Roofing Felt: | YES |
| Roof Felt Weight per sq.m (approx): | 3.8kg |
| Roofing Felt Tiles (Black, Green or Red): | OPTIONAL |
| Upgrade to Toughened Glass: | OPTIONAL |
| Upgrade to Double Glazing: | OPTIONAL |
| Additional Side Window: | N/A |
| Window Boxes: | OPTIONAL |
| Terrace: | N/A |
| Verandah: | N/A |
| Assembly: | OPTIONAL |
| Other Sizes Available: | 28mm Logs: 13x12, 14x15, 34mm Logs: 13x12, 13x15, 14x15, 14x17, 44mm Logs: 13x12, 13x15, 13x18, 14x15, 14x17, 14x19, 70mm Logs: 13x12, 13x15, 13x18, 14x15, 14x17, 14x19 |
| Bespoke and Made to Measure Service Available: | YES |
** Note: With our Shire Log Cabins we offer a made to measure and design service which means our Shire Log Cabins can be made to a different size and specification to the sizes shown. We can make our Shire Log Cabins to any Width and/or Depth you require.
Footprint:
To illustrate the dimensions for this log cabin, the footprint shown below relates to the 38000mmG x 5390mm (13'G (Double Door Side) x 18') Log Cabin and does not include the roof overhang. The symbol (G) relates to the Gable End which for this log cabin is the front width (double door side) and is the first measurement. The second measurement relates to the depth therefore for a 3800G x 5390mm (13G x 18') model the double door/front width is the 13ft measurement.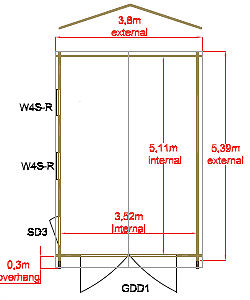 Internal Dimensions:
The base measurements quoted in the 'Standard Specification Table' includes the extreme external length of the log cabin including the corner joints that protrude (does not include the roof overhang). The specification table above shows the internal dimensions of this log cabin which have been calculated as follows:
28mm Log Thickness - (deduct 1 x 250mm off the front width and 1 x 250mm off the length)
34mm Log Thickness - (deduct 1 x 260mm off the front width and 1 x 260mm off the length)
44mm Log Thickness - (deduct 1 x 280mm off the front width and 1 x 280mm off the length)
70mm Log Thickness - (deduct 1 x 330mm off the front width and 1 x 330mm off the length)
Description
The 13 x 15 Shire Bradenham Log Cabin in 28mm logs from Shire is a stunning garden building that really stands out, particularly when compared with traditional garages. It could even serve as an inexpensive solution to a more substantial extension on your home. Whether you want a safe and secure shelter for your car, bike or other vehicle, a stylish way to give you buckets of extra storage, or even a well-insulated, spacious home workshop that you can take advantage of all year round, the Bradenham is as practical as it is pleasing on the eye.
At elbec, we are confident that our log cabins are the perfect way to make the most of your unused garden space and provide an excellent place to work or spend your leisure time in comfort all year round.
Ways to Make the Most of Your Bradenham Log Cabin
The Bradenham provides you with an impressive interior space, ideal for storage, working or for your hobbies. Designed to be an attractive alternative to a traditional garage, the Bradenham is of course perfect for storing a car, bikes, a boat or a trailer, though we always recommend that you check the dimensions of anything you want to store inside against those of the Bradenham before purchasing! If it's more general storage that you're after, the interior will be more than spacious enough for just about anything you might need to get inside. If you've got camping gear, gardening tools, large items of furniture, a ride on lawnmower, loads of kids toys or simply anything that needs sheltered storage, the Bradenham could provide the room you need. Especially if your existing storage areas are full to bursting, you can relieve the pressure by adding loads of extra storage in your new log cabin. Alternatively, many customers purchase the Bradenham with the intention of using it as a hobbyist workshop, or even a more substantial workshop from which to operate their business. These customers usually choose to include the optional floor if they intend to use it as a workshop. The Bradenham has significant advantages over alternative garden buildings sold as workshops. With the insulation offered by the thick wall logs, you can make use of your workshop all year round, a very important consideration if your livelihood depends on not having to take a break from work due to the weather. Whatever you need the Bradenham for, you are certain to appreciate the valuable, new space it gives you.
Why Others Tell Us They Love the Bradenham
Customers who purchased the Bradenham are generally those looking for a practical space, but for whom appearances are still an important factor. Combining a well-insulated, spacious interior with the stunning look of thick, interlocking, timber logs, the Bradenham is always a winner with customers looking for practicality as well as attractiveness in a garden building. With two opening windows, allowing you to control the temperature inside with ease, in addition to a half-glazed door, plenty of light can flood in to your garage log cabin. This makes finding items inside straightforward and ensures an ideal working environment if being used as a workshop. The crossed, Georgian-style glazing, using handcrafted joinery, adds an additional touch of quality too. The doors are secure and lockable, a vital consideration for customers looking for a secure garden building. The generous, roof height and classic apex roof style makes the interior feel spacious, and with thick roof beams and timber walls, the finish is truly stunning. Our customers often like to add their own personal touch by painting their log cabins, which look fantastic in any style or colour. Shire recommends that you use Protek paint, available from elbec in a wide variety of colours. By using Protek Royal Exterior, you can make the Bradenham look exactly how you want it while adding extra protection to the timber. Whether you prefer bold, bright colours or more subtle, natural wood tones, Protek really do have a paint to suit any taste.
Features
A Shire Log Cabin is built to last, and the Bradenham is certainly no exception. Shire uses 4-way corner joints and interlocking logs of the highest quality as standard. This ensures that you'll be impressed by the strength, stability and sturdy feel of the Bradenham Log Cabin. With Shire's draught seal system fitted on all external windows and doors, you are sure to be snug when inside. This particular Bradenham Log Cabin is made from logs that are 28mm in thickness. However, each size of the Bradenham is also available in versions with alternative wall log thicknesses, either 34mm, 44mm or 70mm. Upgrading to a Bradenham with thicker wall logs is a popular choice, especially if you intend to use it as a workshop for business purposes or for general, year-round use. The Bradenham is supplied without a floor, for garage use. However, if you intend to use it as a workshop or as a space for your hobbies, customers will generally purchase the optional, 14mm tongue and groove floor, providing the ideal surface for workbenches, shelving or machinery etc.
Opting for optional toughened glass or double glazed windows is another great way to improve the cabin's year-round usability. Quality floor and roof insulation using Celotex is also available as an optional extra so you can make the most of your log cabin whatever the weather. The double doors and the side entry single door can all be locked securely. At the time of assembly, you can choose which side of the Bradenham you would like the windows and doors, giving you extra flexibility to adapt it to your available space. You can also purchase and construct your log cabin in the confidence that all Shire Log Cabins can be dismantled and rebuilt should you ever decide to move. We're pleased to offer the option of booking our dedicated professionals who will assemble your log cabin quickly and correctly. However, you can choose to use the comprehensive instructions included with the log cabin and construct it yourself.
Range of Customisations Options
At elbec, we offer a wide range of customisation options on all our Shire log cabins to help give you your perfect cabin. Why not upgrade to hexagonal roof tiles, available in red, green or black, to add an extra touch of style and added insulation to your cabin? Take a look at our range of customisations above to make the changes you want.
Feel free to email us to discuss our full range of customisation and product options, or better still, give us a call so we can find the perfect log cabin to suit your needs. Alternatively, why not visit us at our Brookfields Garden Centre showsite near Nottingham? One of our helpful advisors will be on hand to show you around so you can really appreciate the look, feel and quality of our log cabins.
Bespoke and Made to Measure Cabins
All our Shire Log Cabins are made to order. As well as our extensive number of standard sizes and customisation options, you can choose to have the Bradenham designed by you from scratch. Browse our bespoke and made to measure page where you will see there are loads of ways we can make changes to your log cabin to suit your needs.
Many customers choose this service if they have a certain size for their log cabin in mind that is not offered on our website. But did you know that as well as made to measure sizes, you can also add a partition wall on the inside, to create multiple rooms, and much more? Send us an email or call us today for a free quote or if you have any queries about what we can provide as part of our bespoke and made to measure service.
Door/Window Specification
Handcrafted Joinery Windows and Doors are supplied as standard. Windows can be hinged either at the top, right hand side or left hand side and all external Windows and Doors feature the Shire Draught Seal System and Drip Bar.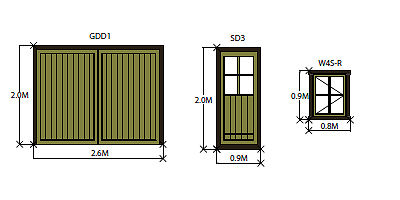 About the Timber
You will be impressed by Shire's use of natural products and their environmental credentials. A high quality timber log cabin starts with high quality timber, so it is important to know exactly what timber is being used for your log cabin. The most commonly used timber for garden buildings is pine (pinus) as this is widely available for a very cheap price, however all of Shire's garden buildings are constructed using high quality spruce (picea) and is sourced from Siberia and Scandinavia under strict FSC guidance. Spruce is more durable than pine and provides a higher quality finish. This timber is slow grown unlike fast grown British and Eastern Europe's timber, being slow grown timber means a tighter grain, less sap and with far fewer knots. The timber used on Shire's log cabins is therefore a more durable timber that will last much longer than other timbers used on log cabins. Spruce is therefore the timber of choice for companies such as Shire who always look to produce the best garden building.
Base
It is important that the base for your log cabin is firm and level. You can request 'Guidelines for Preparing a Concrete Base' through our 'Contact Us' Section.
About Shire
Established in 1945 Shire are the country's leading and one of the oldest established manufacturer of garden buildings. Shire benefit from being adjacent to the Port of Wisbech through which Shire discharge timber into their warehouses. Shire is the proud manufacturer of the largest timber garden building range produced in the UK. At peak times they produce thousands of buildings a week. Their range includes Garden Sheds, Log Cabins, Eco Homes, Home Offices, Sheds, Workshops, Summerhouses, Playhouses, Arbours, Storage units and Pet houses. Their production facilities cover some 23 acres and include huge undercover stock holding facilities for many of their ranges, an advanced high speed timber planing mill, modern well equipped joinery production facility and semi-automated production lines. All Shire garden buildings are manufactured in the UK using the finest spruce timber, imported directly and machined through the most up to date machines to ensure the best quality and best value for money log cabins in the UK.
About your Log Cabin Order
If you think a Shire Bradenham Log Cabin is perfect for you, have a look at our FAQs for Shire Log Cabins where we go over the finer details. These range from preparing the base on which to build your log cabin, to arranging delivery of your purchase. We hope you'll find the FAQs informative and comprehensive, but do not hesitate to contact us with any queries you feel we haven't covered or would like to discuss in greater detail. See our terms and conditions for more.
Picture shows footprint of 3800mmG (Double Door Side) x 5390mm (13'G x 18') Shire Bradenham Log Cabin. The base sizes are taken to the extreme external length of the log including the corner joints that protrude. The base measurements do not include any roof overhangs. The double doors shown are located on the 13ft front width.
All Shire Log Cabins are supplied untreated. You must apply a wood treatment to the exterior. Shire recommends Protek Royal Exterior wood finish, available from elbec in many different colours. This will protect the timber from weathering, making it last longer. The timber treatment will need to be repeated periodically in line with the manufacturer's instructions.
Key Features
An alternative option to building a garage and built with a very high specification as standard.
FREE Delivery to UK Mainland*.
FREE 2.5m Planning Friendly Ridge Height on log cabins with front widths of up to 4790mm (16').
High grade slow grown Spruce timber means a tight grain giving extra strength, a much longer life and superior build quality that looks attractive in the garden.
The single door and both windows can be reversed to suit you.
High quality 28mm interlocking logs as standard for a strong and durable log cabin, with optional 34mm, 44mm and 70mm log upgrades.
Shire Draught Seal System included on all external window(s) and door(s).
Drip bars above window and doors to help divert the rain away from the log cabin.
The roof is made from thick tongue and groove making them durable and provides an attractive interior to this log cabin.
34mm x 61mm Pressure treated floor bearers ensure a high quality and long-lasting building.
Impressive large double garage doors.
Single Side Door for Easy Access.
Glass is used in the windows and single door so you can rely on their clarity for years to come.
Generous roof height.
Available in a large choice of sizes.
All buildings are made to order and are built and designed in the UK.
Delivered flat packed with comprehensive instructions, fittings and heavy duty roofing felt to ensure installation is as straightforward as possible.
Forest Stewardship Council (FSC) Certified timber is used throughout to produce an environmentally friendly log cabin.
Option available to add a tongue groove timber floor.
Optional felt roof tiles can add an impressive finish to the cabin
Optional 4mm toughened glass and 14mm double glazing can help keep youngsters safe and adds even more insulation and warmth.
Option to have your log cabin installed by our professional team of fitters.
Made to Measure Service available on this Log Cabin to whatever size and style you require just call or email for a free quote.
Delivery
ALL DELIVERIES ARE DELIVERED TO KERBSIDE AND ARE FLAT PACKED READY FOR ASSEMBLY
FREE delivery is offered to the majority of mainland UK postcodes but some areas may incur a surcharge and some postcode areas are not covered at all. Please check your postcode in the 'Delivery cost checker' above to confirm availability and any possible surcharges.
Delivery Leadtimes
The estimated delivery lead time for this product is identified on the product page above. Lead times are in working days (Monday - Friday) excludes Bank Holidays. These estimated lead times are provided by the manufacturers and are not guaranteed - due to fluctuation in demand - but are provided in good faith and are representative of delivery at that time. Some remote areas will take a little longer.
Booking Delivery
By entering your postal code in the 'Pick a delivery day. ENTER POSTCODE' Box above you can select a delivery date. The evening before this delivery date you will be sent a text message (where a mobile has been provided) with an estimated delivery window. This update can only be provided where a mobile number has been supplied on the billing address section at the time of checkout.

Upon Delivery
Delivery is made by Shire the manufacturer. Delivery of this item is typically made by a 17 ton flat-bed (similar size to a council refuse lorry). Delivery is typically between 7am and 7pm. The delivery drivers are only insured to deliver to kerb side or driveway. We would not risk damaging your property whilst delivering a product. Unfortunately we will not be able to go through your property. Deliveries are hand-balled off by the driver.
We would recommend against arranging for a third party to install the building before it's been delivered and checked that all parts are present, as we cannot be held liable for any third-party costs.

Installation option
If you are choosing the installation option after placing your order you'll be contacted within 5 working days by Shire the manufacturer either by a text message or automated telephone message (the latter if a mobile number is not supplied). This message will supply you with the name of the website to go on to where you will be required to accept the terms and conditions for assembly. Any delay in accepting these terms and conditions may affect your timescale. Once you have accepted these terms and conditions you will be contacted during the timescale with a date for the delivery/assembly of your order. The installation option will extend your lead time by up to 15-25 working days. This may take longer during seasonal periods. Please be aware that the installation team will require full access to your garden, 18" clearance all around the building and a firm and level base. Shire's installation team will not bring a building through your home as they are not covered by insurance to enter a customer's home.
Bradenham FAQs
What size log cabin do I need?
We would always recommend that your decision making is based on the biggest log cabin you can afford. It will of course need to fit in the space you have allocated without any restrictions. You will find that just like a house, you will always find use for the space. Of course size and space will come down to what you will potentially use the Log Cabin for ie Garden Office, Games Room, Hobby Room or for Dining. We also have Log Cabins with multi rooms. We offer a made to measure and design service where you can dictate your own log cabin size and design.
What should I consider when choosing a location for my log cabin?
Unlike some Log Cabins with Shire Log Cabins you actually build the cabin from the inside but you will need enough room to be able to assemble the roof and treat the external walls. We would therefore recommend that your log cabin should ideally have a clear space of at least 18" wide on all sides, if possible. We know that this can sometimes be an issue and therefore a reduced clearance is often possible on one or two sides. When considering your space around your log cabin (particularly where there are space constraints) remember to allow for any roof overhang. You should also clear the area of any nearby shrubs and trees and remember to allow for future growth. If possible a sheltered position is better.
Do Shire Import their Log Cabins?
No!
Shire Log Cabins are not imported they are machined logged here in the UK. There are many advantages to this notwithstanding the logs will fit together first time which is not always the case for imported log cabins. First of all in the unlikely event of needing parts these are readily available and you would not have to wait weeks for replacement parts as you would if the log cabin was imported. Secondly as they are built in the UK any technical advice you may need is also readily available.
What is the best way to prepare a base for my Log Cabin?
All log cabins require a well prepared, solid, flat, level concrete base to ensure a long lasting and stable installation. It should have a very slight fall to prevent water laying on it. We do not recommend slab and / or shingle bases as an uneven base or subsequent settling will cause excessive strain and may damage your building. Guidelines for preparing a base are issued subsequent to placing an order and are also available upon request.
What tools do I need to build my Log Cabin?
Good quality DIY hand tools, such as: Drills, Hammer, Pozidrive Screwdriver (Electric), Rubber Mallet, Sand Paper, Cutting Knife, Tape Measure, Step Ladder, Pencil, Saw, Damp Proof Strip, Silcone Sealant, Oil for Lock, Level and Ball of String (to check the diagonals).
Please Note: The only cutting which is required on a Shire Log Cabin is the final roof, floorboards, eaves edgings, skirting boards (where applicable), felt and where applicable the verandah posts.
Does the Log Cabin need to be treated?
Log Cabins are supplied untreated. We explain in the section below the reasons for this. However as it is untreated it will enable you to decorate and finish your log cabin to your own individual style and taste. Please Note: the bearers are pre-treated with pressure treatment therefore any wood that comes into contact with the ground is powerfully treated to prevent against decay and insect infestation. It is advised that you treat your log cabin when it has been constructed with a suitable external wood treatment (there are some parts which will need treating prior to assembly which are detailed in the instructions) and treat the external walls periodically after that in order to maintain and prolong the life and beauty of your log cabin. We would also recommend the maintenance of doors and window hinges that you regularly oil these to ensure a continued smooth operation.
Why don't you pre-treat Log Cabins?
Log cabin timber is kiln dried, a process that reduces moisture content. This drying ensures that all wood is reasonably sized and capable of locking together tightly and securely. If timber was to be pre-treated for customers, the rigidly sized pieces of wood would have to be coated with preservative at this stage of production. Each piece would absorb varying amounts of treatment and drying times would be inconsistent. This process would expand to different sizes and this movement would prevent the interlocking log walls from fitting together tightly and securely, if at all.
Why don't all your log sizes come with double tongue and groove?
Using double tongue and groove on log sizes smaller than 44mm would cause the tongues to be very thin and liable to breaking off. This could jeopardise the bond making it very weak. We ensure that our 28mm and 34mm single tongue and groove logs and our 44 and 70mm double tongue and groove logs keep you nice and snug in your log cabin without jeopardising the sturdiness of the building.
Do you offer an Installation Service?
Yes. We offer an installation service throughout the majority of the UK mainland*. Installation by one of Shire's experienced assembly teams. If this is not displayed as an option on the product page, please call our Sales Team on 0115 965 9900 for a quote. Due to Seasonal fluctuation when choosing this option Installation may take up to 6 weeks.
How is the delivery of my log cabin arranged?
You will be contacted by Shire the manufacturer of your log cabin within 1-3 working days via a text message to the telephone number you have provided either a mobile or landline to inform you of how to book your delivery date. This will involve visiting their booking website. You will then either be able to book your delivery date online, or be advised that Shire will call you once a date is available. If having assembly of your log cabin you will still be sent a text message to go on to the booking website to accept the terms and conditions for assembly you will then be contacted at a later date by the delivery team with an assembly date for your log cabin.
How easy are Shire Log Cabins to assemble?
You will not need to be a DIY professional to put up a Shire log cabin. Comprehensive, accurate and extremely easy to follow assembly instructions are supplied. They show exactly where every component fits and the majority of individual components are coded to match the instructions. You are also supplied with spares for some parts just in case. However, if you feel that you need a little advice or just have a couple of questions to ask, you can call Shire's Technical Team on: 01945 465 295 who will be happy to help.
Can I insulate my log cabin?
The floor and roof of our log cabins can be easily insulated (We do not recommend insulating the walls of the log cabin as they need to be able to move slightly with the changes in weather). There are many insulated sheets on the market suitable for insulating your cabin. We recommend using batons on the wall with a slot at one end to allow for expansion and contraction of the wood. We also offer optional 11mm thick double glazing. On many of our log cabins we have the option to increase the log thickness
Can I have electricity in my log cabin?
Although providing an electricity supply to a log cabin is normally a straightforward task, for safety reasons we recommend that you consult an approved electrician first.
13G x 15 (3.80 x 4.49m) Shire Bradenham Log Cabin (28mm Logs)
Product code - 10250011-13Gx15-28
Description Information
The 13 x 15 Shire Bradenham Log Cabin with 28mm logs is a stunning log cabin which really catches the eye, especially when compared to traditional garages. With thick wall logs, a generous roof height and supplied without a floor as standard, it is absolutely ideal for securely storing a vehicle, a wide range of large items or even for using as a well-insulated workshop. It could even serve as an inexpensive solution to a more substantial extension on your home. Key features include:
Wide opening double doors, which can be locked securely, ideal for taking vehicles, large machinery or tools in and out with ease
Secure and lockable side entry door, which is half-glazed to allow in light, provides convenient access to all parts of the garage
Attractive, Georgian-style, opening side windows to allow extra natural light and for you to control the temperature inside with ease
Huge range of customisation options and sizes are available as part of our bespoke and made to measure service
View full specification Delivery


Usually delivered: Use Pick A Day delivery below for your earliest delivery date
Note: Currently not available for delivery to Offshore Post Codes.
excludes installation option