Grow Your Own
---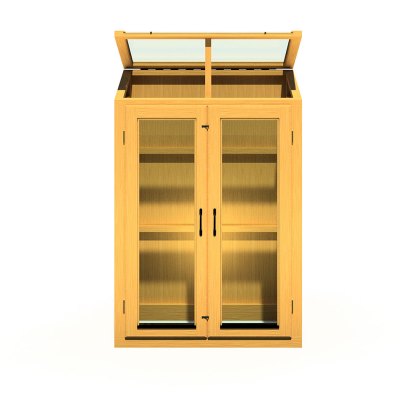 The 3 x 2 Shire Heydon Mini Wooden Greenhouse is perfect for growing vegetables or starting plants. It's a lean-to greenhouse that will fit any size garden. The key features include:
Modern greenhouse with pent roof

Toughened glass with joinery panel and window panes

1 opening top window

Double doors

10-year anti-rot guarantee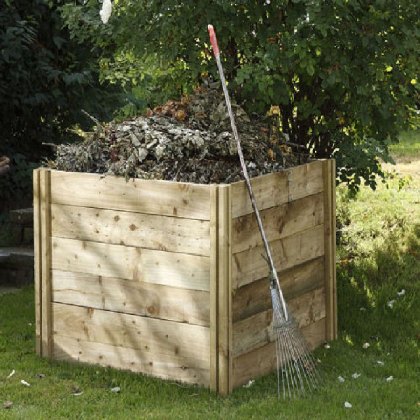 An ideal composter to turn waste in to valuable compost.
15 Year anti-rot warranty
Manufactured from pressure treated timber ensuring a longer life
Quick and easy to build
---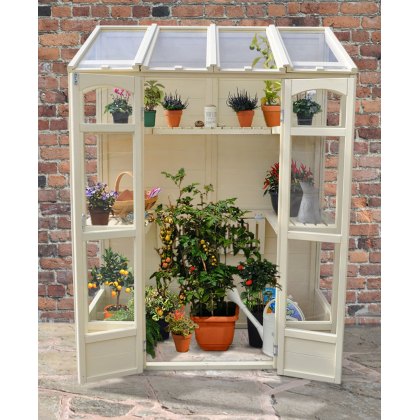 The Victorian Tall Wall Greenhouse can make a feature in any garden for display of your garden flowers plants and herbs, or even fruits and vegetables. The key features include:
Double doors for easy access with 2 air vents allow air to circulate throughout

Compact design to fit into even the smallest of gardens with a back panel permitting flexible garden placement

Free UK mainland delivery

Supplied pressure treated and has a 15 year anti-rot guarantee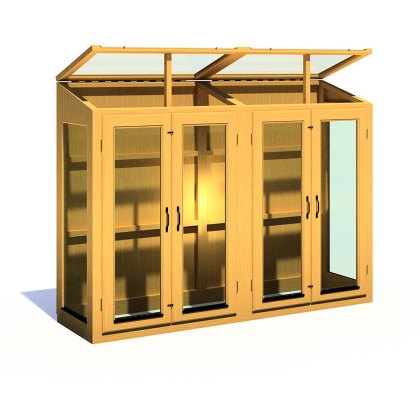 The 7 x 2 Shire Heydon Mini Wooden Greenhouse is perfect for growing vegetables or starting plants. It's a compact greenhouse that will fit any size garden. The key features include:
Modern greenhouse with pent roof

2 opening top windows

Toughened glass with joinery panel and window panes

2 sets of double doors

10-year anti-rot guarantee
---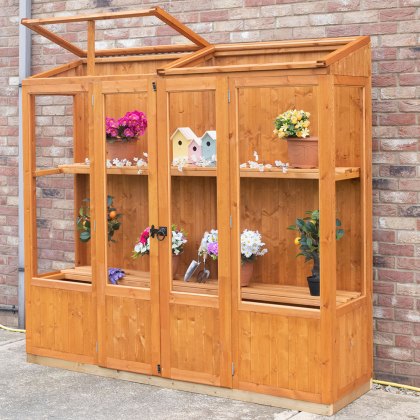 The 7 x 2 Shire Holme Mini Wooden Greenhouse is perfect for starting your vegetable-growing journey. It's a compact greenhouse that will fit any size garden. The key features include:
Modern greenhouse with pent roof

4 fixed-glazed windows

Toughened glass with joinery panel and window panes

Double door

10-year anti-rot guarantee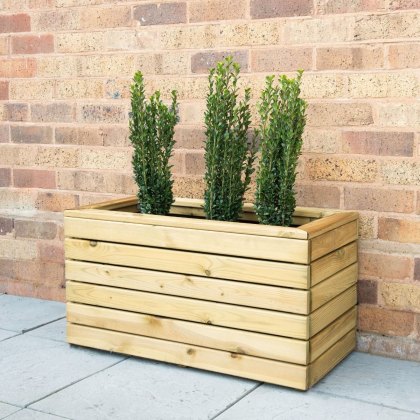 The Forest Double Linear Planter has clean, strong horizontal lines and smooth planed timber for a contemporary look. It is perfect for decorating a modern garden and will look superb when filled with colourful flowers or thriving plants. Key features include:
Stylish, contemporary and smooth-planed look
Good compost capacity in a relatively compact size
Pressure treated for a longer lifespan
15 year guarantee against rot
---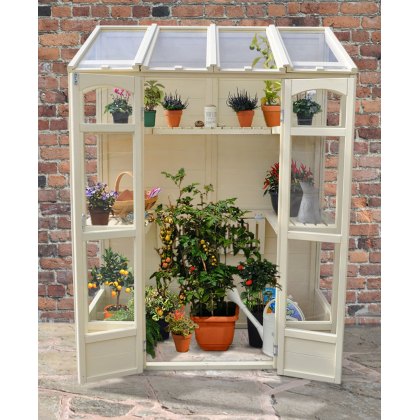 The attractive and cleverly designed Victorian Tall Wall Greenhouse with AutoVent is perfectly proportioned for gardens where space is at a premium. Key features include:
Compact design to fit into even the smallest of gardens with a back panel permitting flexible placement
Two roof vents, one with an AutoVent, for improved air circulation and greater temperature control
Adjustable middle shelving to allow room for taller plants so you can personalise your growing experience
Manufactured from smooth-planed, pressure-treated timber for a superior, long-lasting build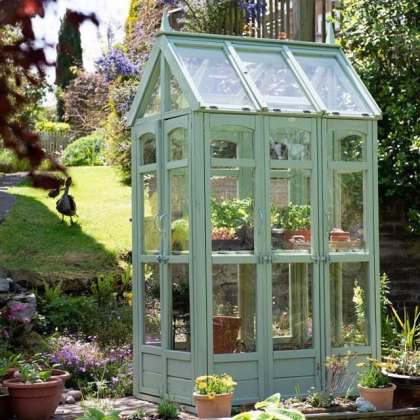 The beautifully designed Victorian Walkaround Greenhouse with AutoVent is unique in that it allows the gardener access to their plants without going inside the greenhouse. Key Features include:
Attractive and functional greenhouse perfect for any garden or patio
Manufactured from smooth-planed, pressure-treated timber for a superior, long-lasting build
Removable slatted staging for a more flexible growing space
Roof vent with AutoVent for improved air circulation and greater temperature control
---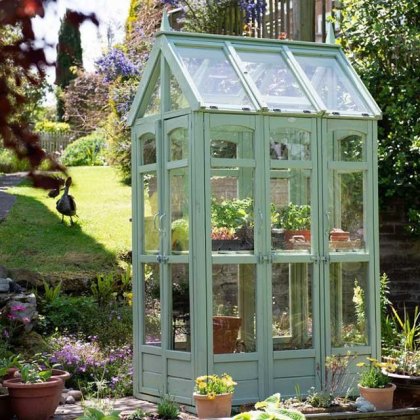 (1)
The award-winning Forest Victorian Walkaround Greenhouse has been cleverly designed to make growing fruit, vegetables and plants through all the seasons accessible for everyone – even for those with small or awkwardly-shaped gardens. The key features include:
Unique and compact design means you can access your plants without going inside
Includes 4 doors which can be located anywhere on the greenhouse to allow easy access
Pressure treated timber will stand up to the test of time and is covered by a 15 year anti-rot guarantee
Includes an opening roof vent and removable slatted staging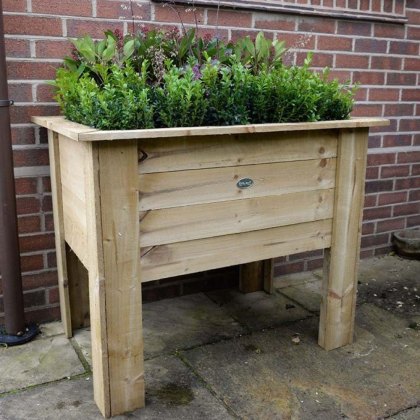 The Forest Deep Root Planter is an attractive and large planter that is perfectly suited for allowing plants with long roots to thrive without being short on space. The key features include:
Has a 180 litre capacity which is extra-spacious for deep-rooted plants
Ideal height for accessibility, giving wheelchair users or those with mobility issues the opportunity to enjoy gardening
Pressure treated timber for a longer lifespan
15 year anti-rot guarantee
---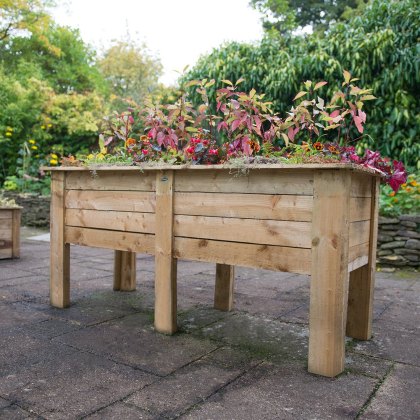 The Forest Deep Root Planter is an attractive and large planter that is perfectly suited for allowing plants with long roots to thrive without being short on space. The key features include:
Has a 350 litre capacity which is extra-spacious for deep-rooted plants
Ideal height for accessibility, giving wheelchair users or those with mobility issues the opportunity to enjoy gardening
Pressure treated timber for a longer lifespan
15 year anti-rot guarantee