12ft (3.16m x 3.63m) Palram - Canopia Oasis Hexagonal Greenhouse - Grey
Usually delivered: 7-10 Working Days.
Description
Please note: all imperial measurements are approximate and Palram products are made from metric measurements.
| | |
| --- | --- |
| Product Name: | 12ft (3.16m x 3.63m) Palram Oasis Hexagonal Greenhouse - Grey |
| Footprint (Front Width x Depth): | 3.16m x 3.63m (10'4' x 12') |
| External Dimensions (Front Width x Depth x Height) | 3.16m x 3.63m x 2.89m (10'3' x 11'9 x 9'6') |
| Internal Dimensions (Front Width x Depth x Height) | 3.12m x 3.59m x 2.84m (6'10' x 7'10' x 9'4') |
| Height to Ridge: | 2.89m (9'6') |
| Height to Eaves: | 1.94m (6'4') |
| Walls: | Clear Polycarbonate Panels |
| Frame: | Aluminium |
| Door: | Hinged double doors |
| Door Opening (Height x Width): | 1.72m x 1.145m (5'7' x 3'9') |
| Door Lock: | Door handle with cylinder key lock |
| Roof Type: | Pinnacle |
| Roof: | Translucent 4mm Twin-wall Polycarbonate |
| Base: | Galvanized Steel Perimeter Base |
| Vents: | 1 Manual Side Louvre Window |
| Integrated Guttering: | Yes |
| Low Threshold Entry: | Yes |
| Colour: | Grey |
| Optional Accessories: | Yes (Refer to Choose Product Options Above) |
| Other Sizes Available: | 8ft Hexagonal |
| Assembly: | N/A |
| Manufacturer's Guarantee: | 5 Year Defects and Workmanship Warranty |
| EAN Number | 7290108138603 |
| Manufacturer's Part Number | 705239 |
| Manufacturer: | Palram Applications |
Please Note: Because of the lightweight materials, this greenhouse is not suitable for windy or exposed areas. In these circumstances we recommend a glass greenhouse which is heavier and will remain grounded. This greenhouse is also not supplied with a floor, so for greater stability it should be constructed on an appropriate concrete or slab base.
Delivery
ALL DELIVERIES ARE DELIVERED TO KERBSIDE OR DRIVEWAY. This product is delivered flat packed, direct to your home and is supplied with a set of instructions to support assembly.
Our telephone lines are exceptionally busy to avoid queuing you can use the 'Help' facility which is on every product page.
To protect both you and our drivers, we request that you remain within your property while they complete the delivery.
Booking Delivery
Your order will be dispatched by the manufacturer Palram Applications. If you have ordered more than one item, they may arrive at different times.
Our teams are working hard to ensure your order is delivered within the timescale indicated on the product page. For customers in certain areas (e.g. Scotland and Wales) the timescale for these areas will be extended by up to 10 working days (this may be longer during peak times). Please note lead times are counted in working days (Monday – Friday) excluding Bank Holidays.
Postcodes with extended leadtimes: AB, DD1-7, DD8-11, FK18-21, G84, HS1-8, HS9, IV1-20, IV21-26, IV27, IV28, IV30-36, IV40-63, KA27-28, KW1-14, KW15-17, PA20, PA21-38, PA41, PA42-49, PA60, PA61, PA62-76, PA77-78, PA80, PH1-5, PH6-29, PH30-35, PH36-39, PH40, PH41-44, PH45-50, ZE
Prior to Delivery
With Palram products, you will be sent two text messages. The first message will inform you that your order is being processed. The second message will be sent closer to the end of the delivery timescale, advising you that your order has been dispatched and will be delivered by one of two couriers (TNT or DX).
Please note that both elbec and Palram will be unable to supply any further information on your order during this timescale.
Upon Delivery
Your order will be delivered kerbside or on your driveway. Due to health and safety, and insurance liabilities, the driver will not be able to take your goods to the back of your property but – upon request – may place the product at the side of the house if there are no access issues. This is to avoid risking damage to your property while delivering to an unsafe location. We will not be able to go through your property.
We recommend against arranging for a third party to install the product before its delivery and checking that all parts are present, and we cannot be held liable for any third-party costs caused by delays.
Specification
Product Name:
12ft (3.16m x 3.63m) Palram Oasis Hexagonal Greenhouse - Grey
Exterior Width (Door Side):
3.16m (10'4")
Exterior Length:
3.63m (12'0")
Interior Width:
3.12m (6'10")
Interior Length:
3.59m (7'10")
Footprint Width:
3.16m (10'4")
Footprint Length:
3.63m (12'0")
Ridge Height:
2.89m (9'6")
Eaves Height:
1.94m (6'4")
Roof:
Translucent 4mm Twin-wall Polycarbonate
Walls:
Clear Polycarbonate Panels
Base:
Galvanized Steel Perimeter Base
Vents:
1 Manual Side Louvre Window
Door Lock:
Door handle with cylinder key lock
Manufacturer's Guarantee:
5 Year Defects and Workmanship Warranty
Manufacturer's Product Code:
705239
Manufacturer:
Palram Applications
Quickview
The Palram 12ft Oasis is a greenhouse with an interior space just as pleasant to sit inside with a cold drink as it is to grow plants. A hexagonal structure and heightened roof make the spacious 12ft Oasis a garden building of leisure as well as horticulture. Some of its most exciting features include:
Heavy-duty aluminium frame with a refined grey finish applied by durable powder coating
Twin-wall polycarbonate roof panels for the soft diffusion of light, and clear glazing for the sides – ideal for stunning views of your surroundings
Clear polycarbonate walls that encourage the owner to create picturesque displays of flowers or trellised plants within the hexagonal design
Two stylish louvre vents provide an easy way to manually increase ventilation or produce a through-draught
Description
A hexagonal structure looks distinct, and creates a pleasant interior without any tight corners. Garden owners on the hunt for a greenhouse with a user-friendly design that makes it perfect for relaxing or working from home as well as growing plants will find a lot to love in this 12ft Palram Oasis. A garden building like this one can be an ideal way to make the most of a picturesque spot in your garden, and take advantage of your garden as a place to relax that you haven't experienced before.
The Palram Oasis comes in anthracite grey, a deep shade that gives the Oasis a look of precision and evokes contemporary architecture.
Features
The structure of the Palram 12ft Oasis relies on durable materials, providing a strong foundation for the greenhouse. This begins with a galvanised steel base around the perimeter of the Oasis, which improves stability and is resistant to corrosion. Sturdy aluminium is used for the rest of the greenhouse's frame and has an attractive grey powder-coated finish.
The finishing touch is the high-quality polycarbonate glazing. Frosted twin-wall glazing is featured in the roof panels to diffuse the harshest light from the sun, while the glazing featured in the walls is crystal clear. This makes the interior of the Oasis an appealing place to sit and relax in mild weather, with the clear side glazing giving you a good view of your surroundings. Looking into your Oasis from the outside, the transparent sides bring clarity to your hard work on the plants inside.
If you want to create a sustainable irrigation system for your plants, the guttering that comes built into the Oasis's frame means that collecting rainwater in a water butt is a straightforward task. As is controlling the temperature and humidity of your greenhouse, thanks to two elegant louvre vents that can be manually opened to let in fresh air.
A low threshold doorway ramp and double doors that open wide mean that accessing your greenhouse has never been easier. The generous headroom of the Oasis is often remarked upon by visitors, too, with an interior height of over eight and a half feet at its peak.
Accessories
Hobby gardeners will appreciate the opportunities Palram creates to expand the uses of the Oasis and extract its full potential with its range of accessories. Make adjusting the louvre vents you have an easy experience with the Automatic Louvre Vent Opener. This item requires no external power and instead relies on the sun's warmth to expand a hidden wax cylinder and push open the vent. As the ambient temperature cools, this works in reverse when the piston contracts and draws the vent shut to the elements.
To make the most of the generous height of the 12ft Oasis, we recommend investing in a Trellising Kit Pro. This item includes everything you need to care for plants with tall and frail stems that need support – six roller hooks, twine, and three types of support clips for various crops.
Additional Details
The Palram Oasis greenhouse is delivery flat-packed and needs to be assembled at home. All parts and fixtures needed to build your 12ft Oasis are included. While some DIY experience is useful in putting together your Oasis, many customers find assembling their greenhouse a satisfying way to spend a weekend with a helpful friend. Make sure to follow the written assembly instructions provided.
Those who are mindful of future years will appreciate the five-year warranty provided by Palram. Read the details regarding maintenance carefully to ensure your warranty is valid should you need to use it – although this greenhouse requires very little attention after assembling.
Key Features
FREE UK mainland delivery
Heavy-duty aluminium frame with a highly durable powder-coated in a contemporary grey finish
Built-in guttering encourages a sustainable system for watering plants with the owner's addition of a water butt
High quality polycarbonate glazing (frosted style on roof, crystalline for sides) that is virtually impossible to shatter and does not discolour over time
A perimeter base constructed from galvanised steel
Double doors that are easily locked with the addition of a padlock (not included)
Two elegant louvre vents
Glazing that protects against potentially harmful ultraviolet rays
Five-year warranty from manufacturer included for no additional cost
You May Also Like
---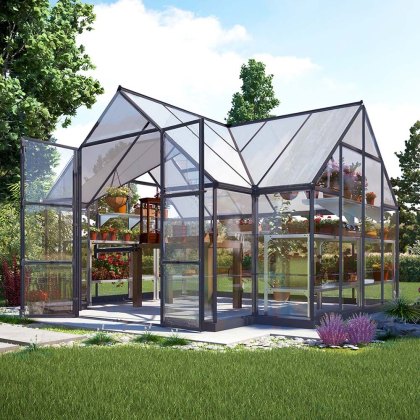 Save £224.87
Was £1,514.82
---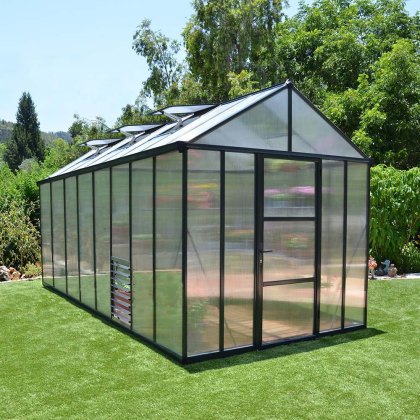 Save £339.46
Was £2,329.41